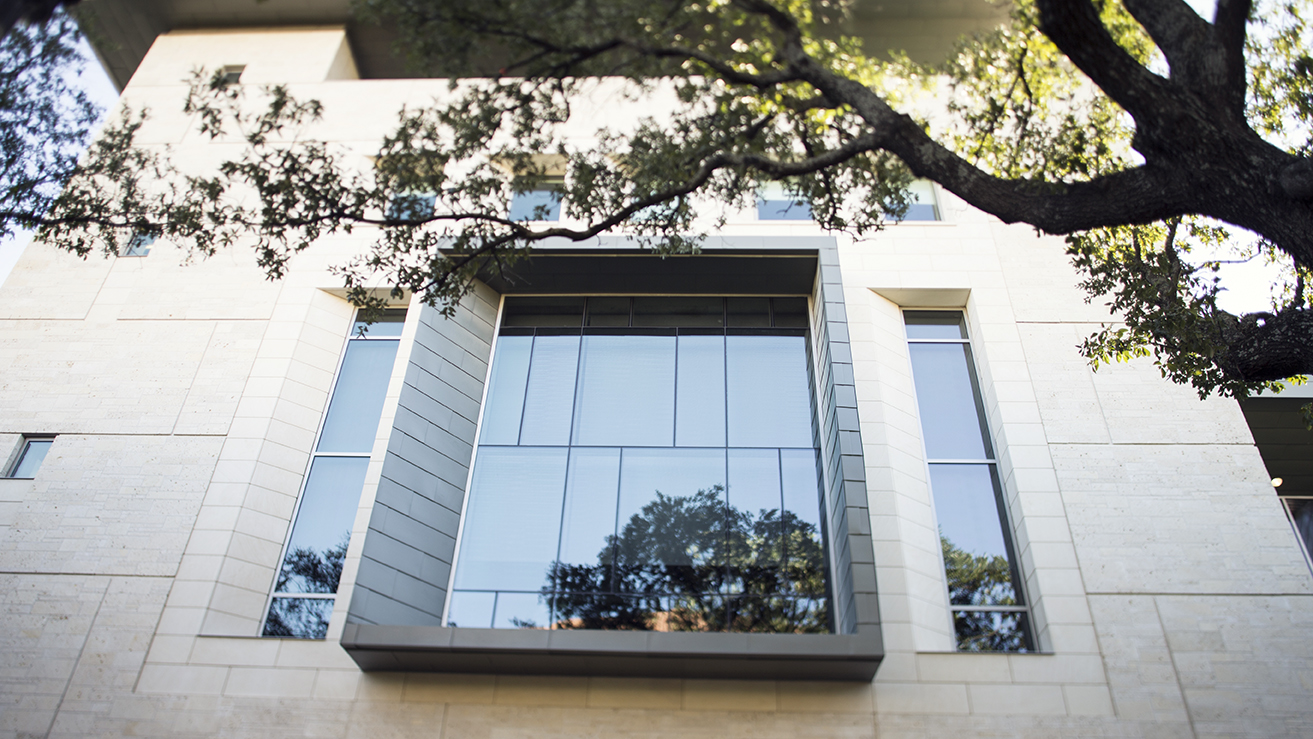 The President's Leadership Awards were created in 1985 with an endowment from past Texas Exes president Frank Denius. These awards recognize undergraduate students who have demonstrated outstanding leadership within the student community at The University of Texas. One sophomore, two juniors and three seniors receive the award annually.
2018 Recipients
Emily Yang
Major: Biomedical Engineering
As a physics teaching assistant, sophomore Emily Yang tries to not only help students understand physics but to also make the subject less terrifying—and even fun. And she doesn't stop with making science accessible for UT students: as a mentor in Student Engineers Educating Kids (SEEK), Yang volunteers at lower-income elementary and middle schools, teaching students about science and engineering through weekly projects.
Activities: Student Engineers Educating Kids (SEEK) mentor, Roden member, Texas Engineering World Health
Carolen "Gabby" Crank
Major: Business Honors, Plan II
As if being a student athlete enrolled in two rigorous honors programs isn't challenging enough, junior Gabby Crank is a Business Honors Program peer mentor, where she brings her energetic and can-do attitude to helping guide mentees through the first year experience with small group activities and individual meetings. She is a scholarship athlete on UT's track and field and cross country teams, a student leader for the Fellowship of Christian Athletes, and participates in many community service activities.
Activities: Business Honors Program peer mentor, UT Track and Field/Cross Country athlete
Jacqueline C. Gibson
Major: Computer Science (Turing Scholars), African and African Diaspora Studies
As a residential assistant in First Bytes, junior Jacqueline Gibson had the opportunity to mentor high school girls and introduce them to the potential of computing and the excitement of problem solving. She is the co-founder of the Association of Black Computer Scientists and served as co-president for its first year. She is an active member in the Texas Orange Jackets and serves as the organization's Director of Scholarship and Service. Gibson has participated in the Senate of College Councils and used her time on the council to be an advocate for academic improvements, such as improving the affordability of technology in the classroom.
Activities: First Bytes Residential Assistant, Association of Black Computer Scientists, Texas Orange Jackets, President's Student Advisory Committee
Karan Kathuria
Major: Biochemistry
Always enthusiastic and full of ideas, throughout his time on campus senior Karan Kathuria has presented this research at regional and national scientific meetings and held internships where he has developed apps for college student registration, set up a clinical database for anticoagulant drug therapy at MD Anderson in Houston, and worked as copy editor for scientific research manuscripts. He has held three offices on the Natural Science Council and has received numerous awards including the CNS award for Excellence in Molecular Biology Research, American Society of Biochemistry and Molecular Biology (ASBMB) Undergraduate Research Award, and Senate of College Councils Undergraduate Research Grant.
Activities: Natural Science Council
Matthew "Micky" Wolf
Major: Business Honors, Plan II, Psychology
With three majors, three internships, and a study abroad experience, senior Micky Wolf has been a busy guy–but not too busy to be active on campus. Wolf served as 2017-18 Student Body Vice President, after serving as a University-Wide representative in 2016-17. He has chaired the Student Services Budget Committee (helping to allocate $43 million), directed campus-wide initiatives such as bringing back the A&M football game and requiring service-learning by all freshmen. He also created the first annual Improve UT Challenge, which garnered substantial student activity, and served on the City Relations Agency.
Activities: Student Government, Texas for Expanding Opportunities, Student Consulting Initiative, Texas Leaders, Center for Sports Leadership and Innovation, and Camp Kesem
Valarie Cardenas
Major: Supply Chain Management
Senior Valarie Cardenas has served as a McCombs BBA Student Recruiter for the past four years, helping recruit a talented and diverse class to McCombs. She volunteers to mentor incoming freshmen through the McCombs "As We Know It," program and has served as a McCombs Camp Counselor for the McCombs High School Summer Program. Additionally, Cardenas is a member of Texas Darlins and Sigma Delta Lambda, has completed a leadership development program with Ernst & Young as well as two internships with AT&T and Target.
Activities: McCombs Leadership Program, Hispanic Business Student Association, McCombs Undergraduate Business Council
Past Recipients
2017
Seth Krasne, Sofia Aranha, Mayra Sharma, Garrett Maples, Jade Jackson, Amber Magee
2016
Jon Burstain, Robbey Orth, Bethany Rolan, Rachel Huynh, Imani Boyette, and Kevin Helgren
2015
Lauren Caton, Ignacio Cruz, Amy Enrione, Madison Gove, Neal Makkar, and Coleman Tharpe
2014
Charlie Adkins, Elyssa Klann, Holland Finley, Jeffrey Li, Michael "Ugeo" Williams, and Tara Sharma
2013
Armiya Humphrey, Robert Belanger, Steven Macapagal, Rosaura Estrada, Julie Fogarty, James Salazar
2012
Michael Daehne, Jordan Metoyer, Ana Laura Rivera, Rebekah Sosland, Bhargav Srinivasan, Rebekah Thayer
2011
Shelby Carvalho, David Forinash, Derin Kiykioglu, Audrey Najera, Jimmy Talarico, Eugene Wood
2010
Erica Brody, Erik Eyberg, Charles "Bud" Franck, John Kidenda, Cecilia Lopez, Berenice Medellin
2009
Jacob Marcus Bintliff, Natalie Butler, Liam O'Rourke, Abraham Pena, Keshav Rajagopalan, Rebecca Reid
2008
William P. Bacon, Katie Brehm, Nathan Vidal Bunch, Stephen Lang Myers, Nicole Elizabeth Trinh, Mechiel Johannes Vander Walt
2007
Sarina Hickey, C. Melvin Ike, Ryan Miller, Keshav Rajagopalan, Monica Richards, Danille Rugoff, James Tolleson
2006
Matthew Garrett Ashbaugh, James Mahoney Burnham, Manasi A. Deshpande, Zachary Charles Hall, Andrew R. Lara, Sheena Paul, Kan Yan
2005
Salome Balderramme, Tara Buentello, Jesus Castillon, Ellen Chen, Lauren Gilstrap, Matthew Hardigree, Vivek Sakhrani
2004
Jesus Castillon, Monica Villasenor Culver, Kevin Curry, Steven Hardt, Rusty Ince, Jake Ward, Wendy Wheless
2003
Andrew Brummett, Derek Deas, Katie King, Sly Majid, Omar Ochoa, Clint Tuttle
2002
Dimi Aldridge, Erin Dominguez, Andrew Friedberg, Jon Mureen, Sonia Nezamzadeh, Tim Taliaferro, Phu Tran
2001
Zaina Nabil Al-Mohtaseb, Colleen Davies, Andrea Greene, Chris Harlan, Nils Marchand, Jake Olcott, Daron Roberts
2000
Parisa Fatehi, Milam Newby, Sebastian Paige, Carlos Luis Rodriguez, Mollie Sultenfuss, Randy Thompson
1999
Kiesha Curtis, James Hwang, Atisha Patel, David Sanchez, Demetris Williams, Krissah Williams
1998
Christina Allen, Nina Bhatia, Troy Daniel, Lisa Henken, Annie Holand, Daron Roberts, Marlen Whitley
1997
Dee Campanella, Emily Johnson, Tyson Brice King, Candice Marchland, Kat Murray, Ryan Phelps, Anthony Rosette
1996
Carl Harvey Jr., Sam Jacobs, Jake Margo, Yvette Mirabal, Jennifer Monday, Ronnye Vargas
1995
Alex Eastman, David Henderson, Mirshish Massey, Brian Siegal, Ronnye Vargas, Julie Zelman
1994
Joshua Aruh, Deana Dittmar, Katherine Dunphy, Lisa Epifani, Chad Young
1993
Heili Allee, Glenn Brown, Kip Dixon, Howard Nirken, Sean Petrie, Stephen Shang
1992
Stacie Baker, David Gomez, Sean Mast, Howard Nirken, Laura Schaulat, Meredith Spiekerman
1991
Julie Ballard, Sarah Louise Biddle, Jennifer Bradley, Jackie Lain, Marty Meekins, Jennie Molz
1990
Meredith Byers, Jackie Lain, Marty Meekins, Teri Pinney, Anneke Schroen, Charla Serbent, Cliff Vrielink
1989
Jennifer Bradley, Debbie Knupp, Mark Murdock, David Antonio Perez, J. C. Rozendaal, Paul Schweizer, Christine Warden
1988
Dina Castranova, James Delk, Deanna Dewberry, Bill Dorland, Mike Hulbert, Randi Shade
1987
Steve Barrett, Julie Beckham, Archie Holmes, Blair Schlossberg, Mark Strain, Michael Whellan
1986
Dean Carter, Dorina Trevino Clarke, Patricia Jeffrey, Marc H. Muchnick, John Scott