Hey there! Welcome to the Nashville Texas Exes homepage!
There are lots of Horns in the Tennessee area. So whether you now consider yourself a native Nashvillian, are new to town, or are just passing through, we'd love to see you at one of our gamewatches, fundraisers, volunteer events, or socials! If you'd like to be a part of the chapter board, let us know by emailing us anytime: texasexesnashville@gmail.com. Upcoming events include the following:
Fundraising
Saturday, December 2nd from 10:00am-12:00pm

Shopping at Kendra Scott in Green Hills during this time will raise money with 20% of the cost purchased items going toward our scholarship fund!

Ongoing:

We have longsleeved chapter shirts for sale, please email us to see if we have your size. Proceeds also go toward our scholarship fund, awarded to a student from Tennessee who elects to attend the REAL UT for college!
Gamewatches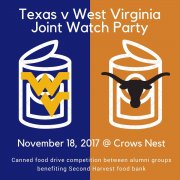 At Crow's Nest Restaurant. We typically have raffles or giveaways so come on by for football and fun.​​
Saturday, November 18th: 11:00am vs West Virginia - come early for a pre-game game and canned donations are welcome to go for to 2nd Harvest Food Bank
Friday, November 24th: 7:00pm vs Texas Tech (FOX)
The rest is TBD!!