Texas Exes Shop
Gifts that bleed orange and give back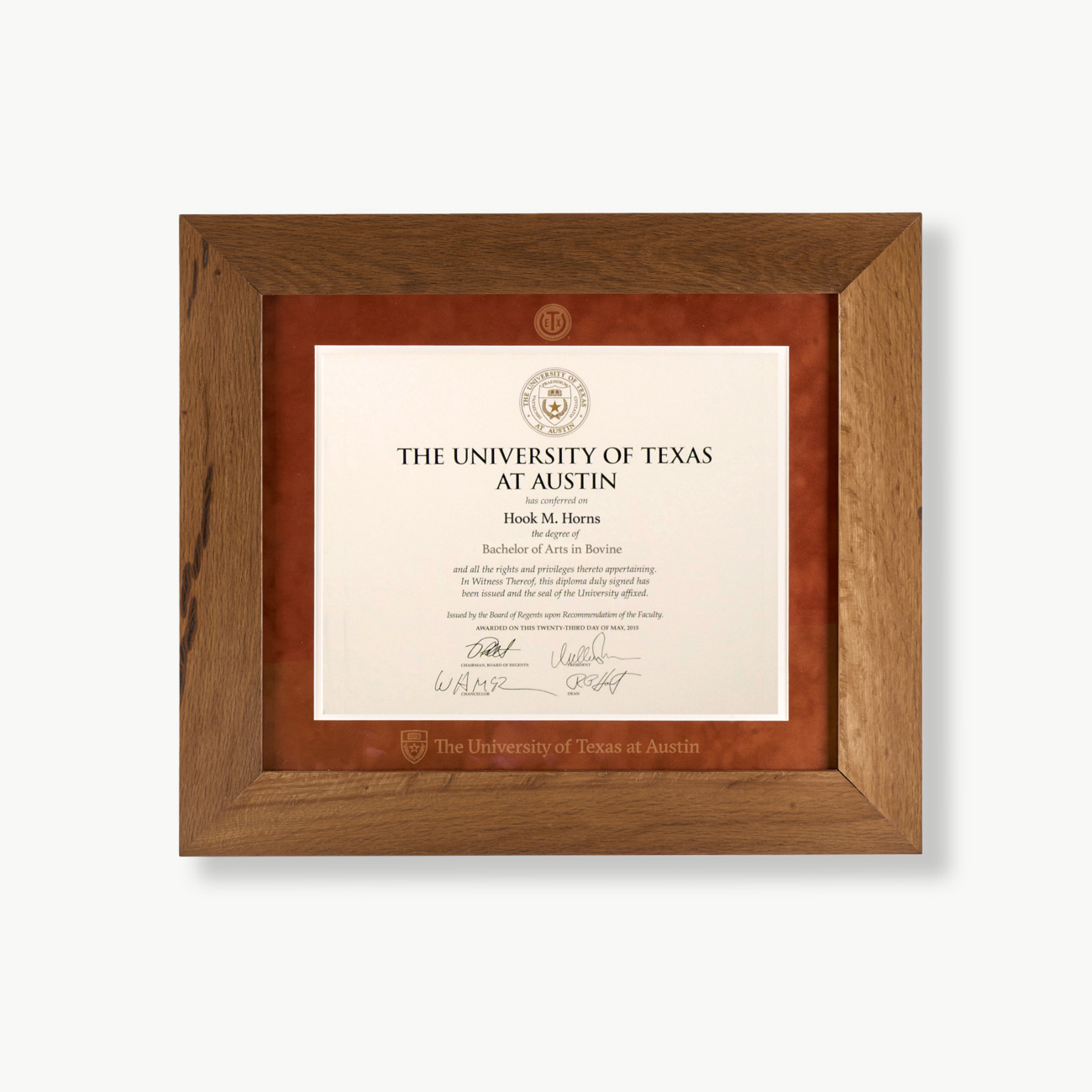 Diploma Frames
Now, you can own a piece of the Forty Acres with an artisan diploma frame from the Texas Trees to Treasures Collection. Made from wood sourced on campus, each diploma frame is a unique piece of art made through sustainable practices.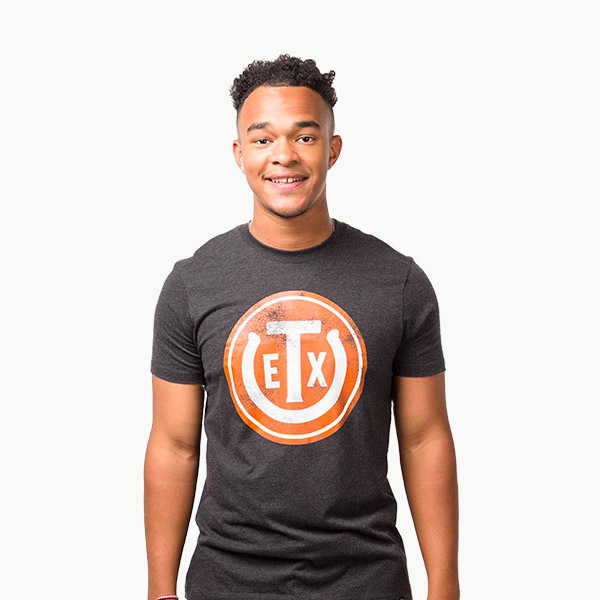 Texas Exes and Longhorn Apparel
Find Texas Exes branded merchandise, Longhorn gear, and more at the University Co-op.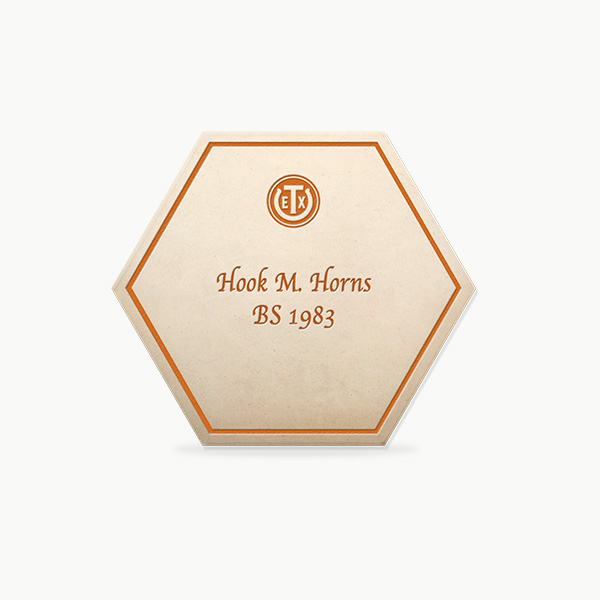 Alumni Center Tiles and Plaques
Leave your mark on the Forty Acres with a personalized tile, prominently displayed on the Alumni Center's plaza.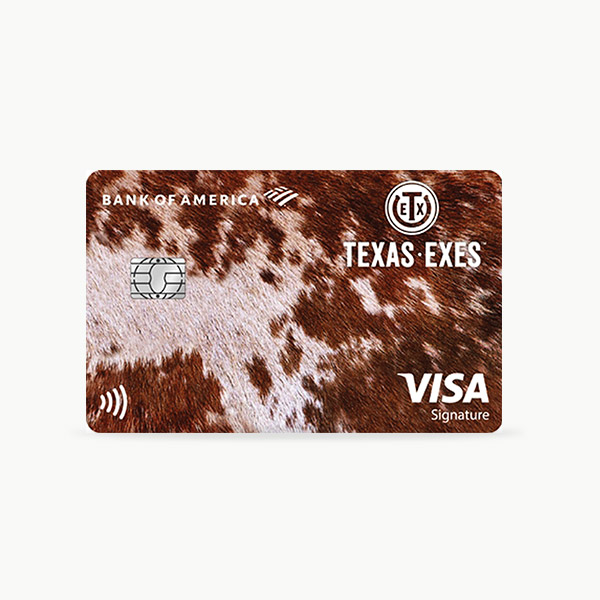 Bank of America® Credit Card
Display Longhorn pride and support the Texas Exes with the official Texas Exes Customized Cash Rewards credit card from Bank of America.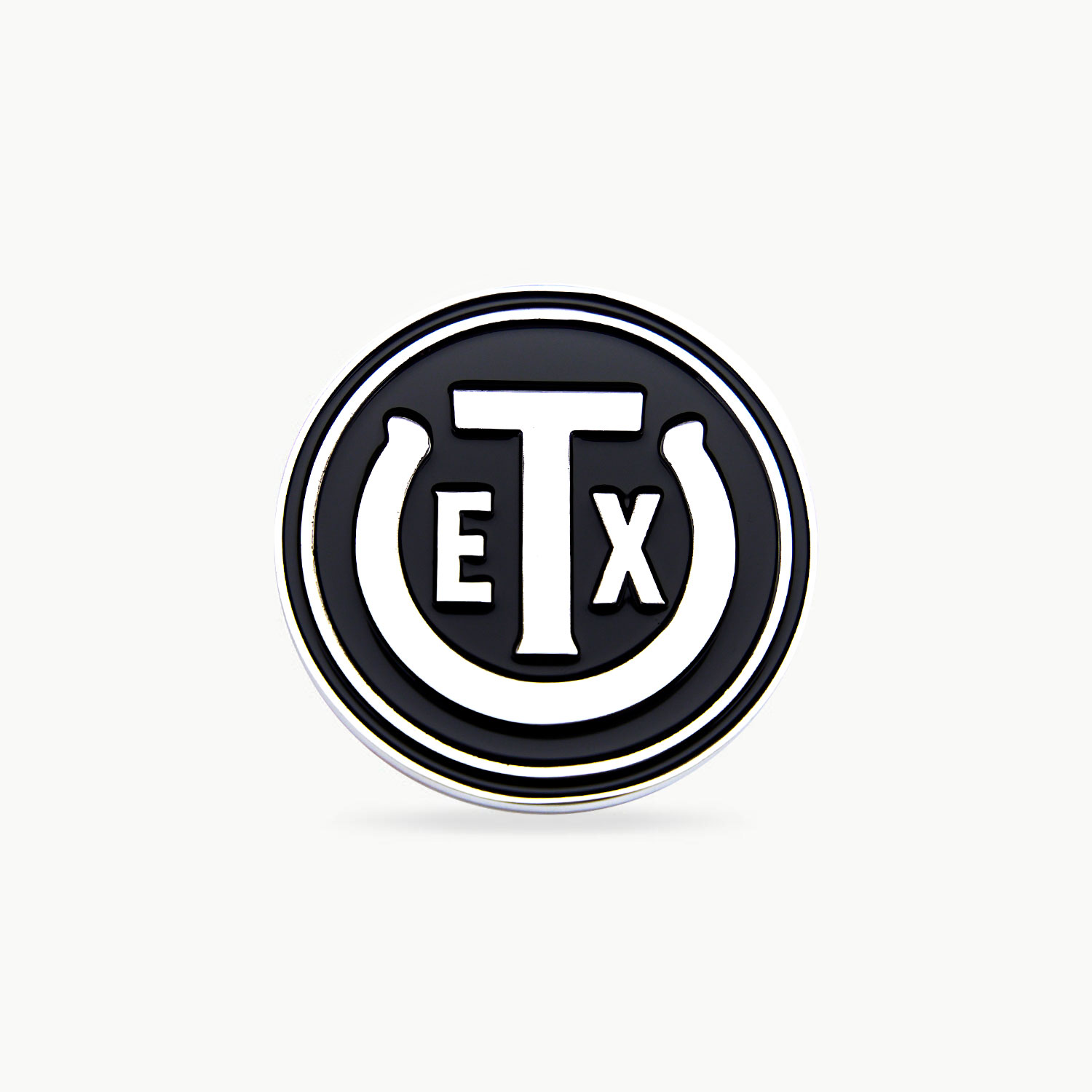 Auto Emblem
Add a symbol of pride to your ride, and do it in style. An auto emblem is a great way to show your support.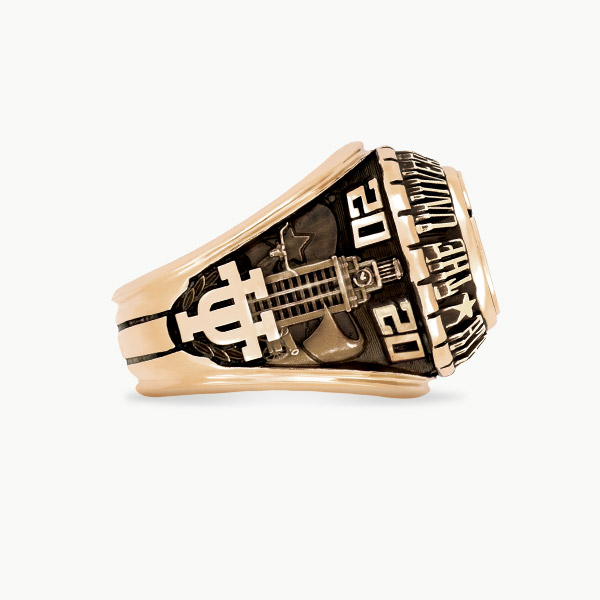 Class Rings
The Texas Exes is proud to offer the Official UT Ring. It's a mark of achievement and honor—and it's one of the university's great traditions.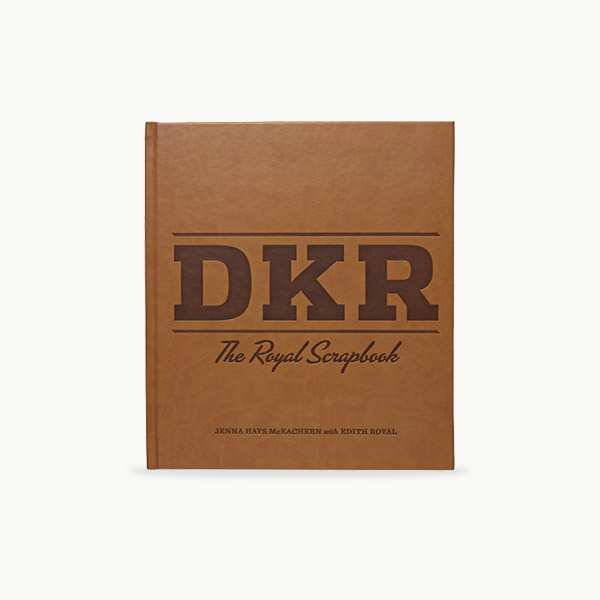 "DKR: The Royal Scrapbook"
This exclusive collector's edition of DKR: The Royal Scrapbook was written by UT alumna Jenna Hays McEachern, with Edith Royal. Only 250 copies were printed, each with a special letterpress colophon page signed and numbered.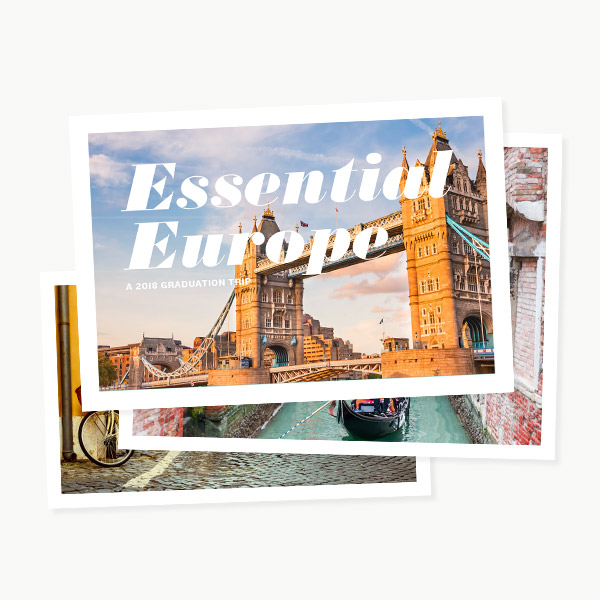 Essential Europe Trip for New Grads
19 days - 8 countries! Are you looking for the perfect gift to celebrate your UT student's graduation? Give your grad a European adventure where they'll see the greatest monuments and discover the tiny corners of Europe with fellow UT grads.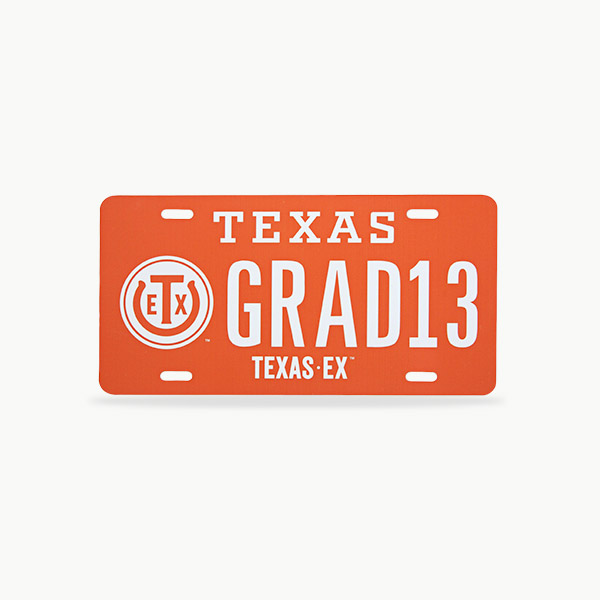 License Plates
Stand out in traffic while showing your pride with a Texas Exes license plate! A portion of the proceeds benefits the Texas Exes Scholarship Foundation.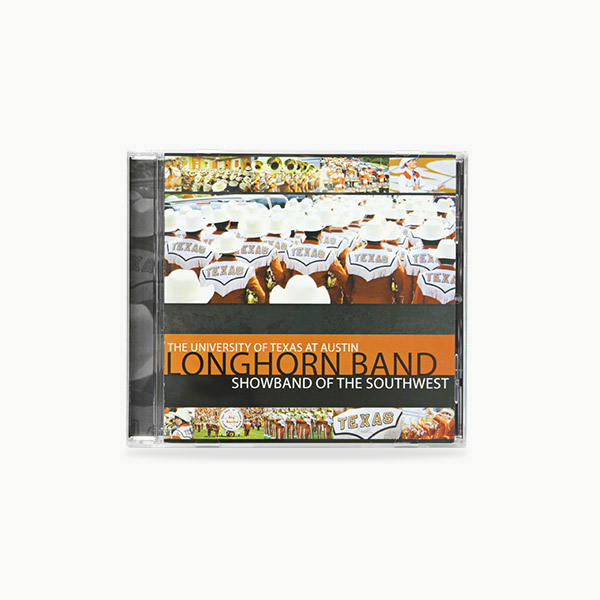 "Longhorn Band" CD
Enjoy the music, spirit, and traditions that embody The University of Texas!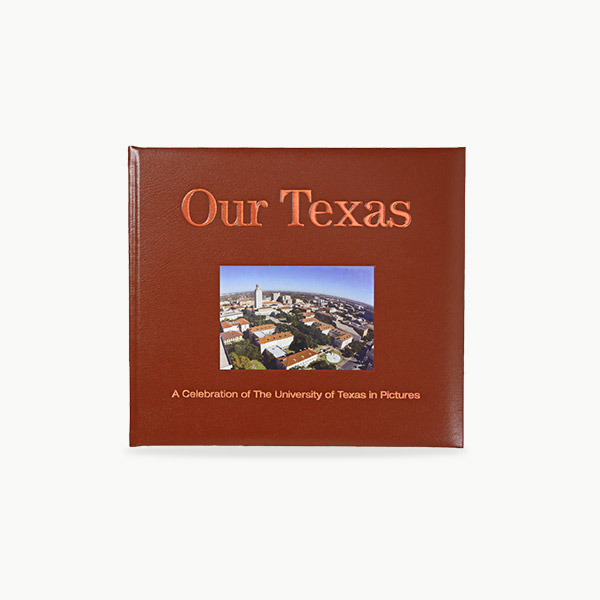 "Our Texas" Photo Book
This keepsake photo book is a timeless treasure for Longhorn enthusiasts! Photographically showcasing the proud history, unparalleled athletics, acclaimed academics and diverse student body of this world-class institution. Call 1-800-369-0023 to order.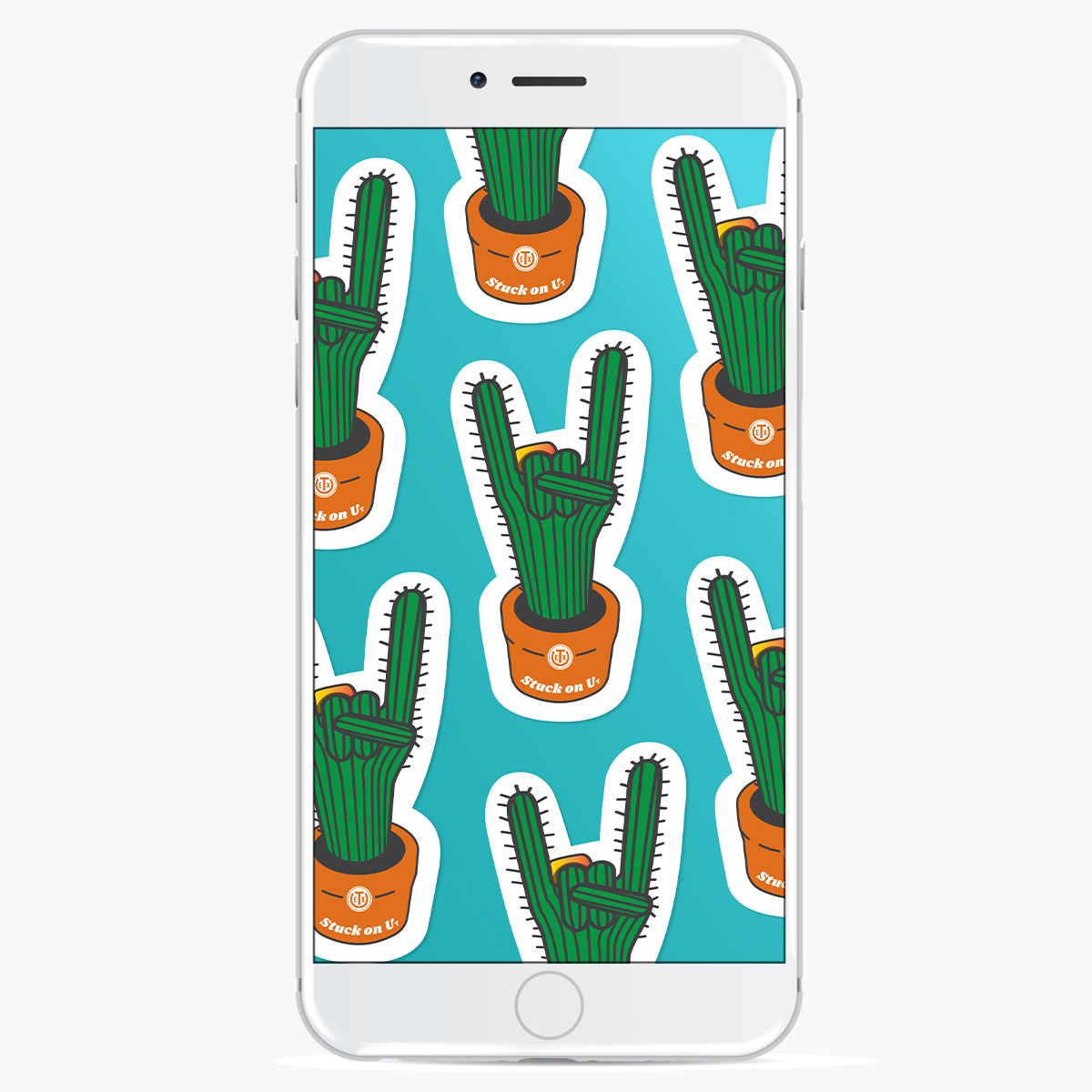 Downloads
There's no such thing as too much Longhorn pride. Enjoy downloadable wallpapers for your phone and more!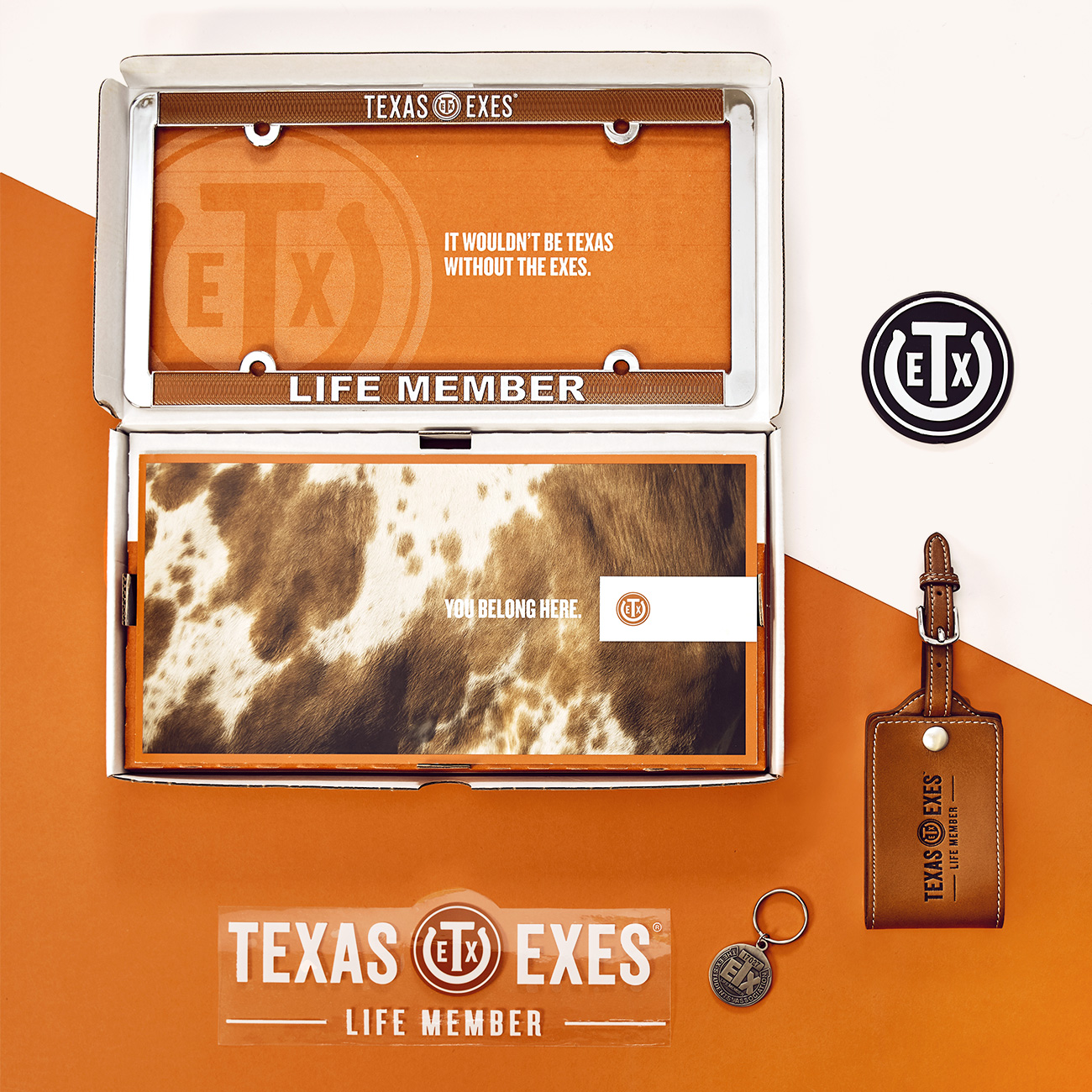 Life Member Kit
The best way to show your Texas pride just got a makeover. Order a new Life Member kit and show the world who you are. 
$75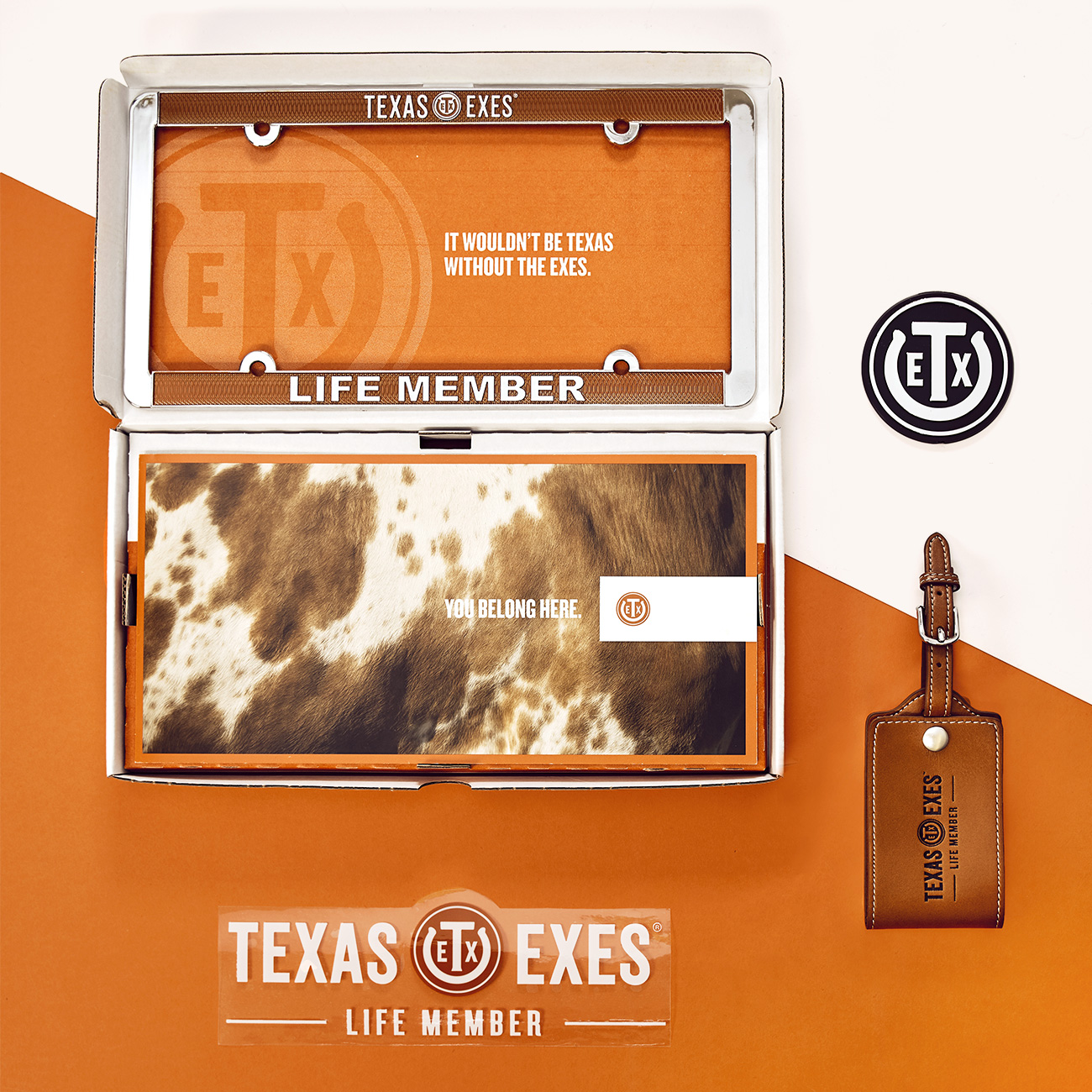 Life Member Kit without Replacement Keytag
The best way to show your Texas pride just got a makeover. Order a new Life Member kit (keytag not included) and show the world who you are.
$65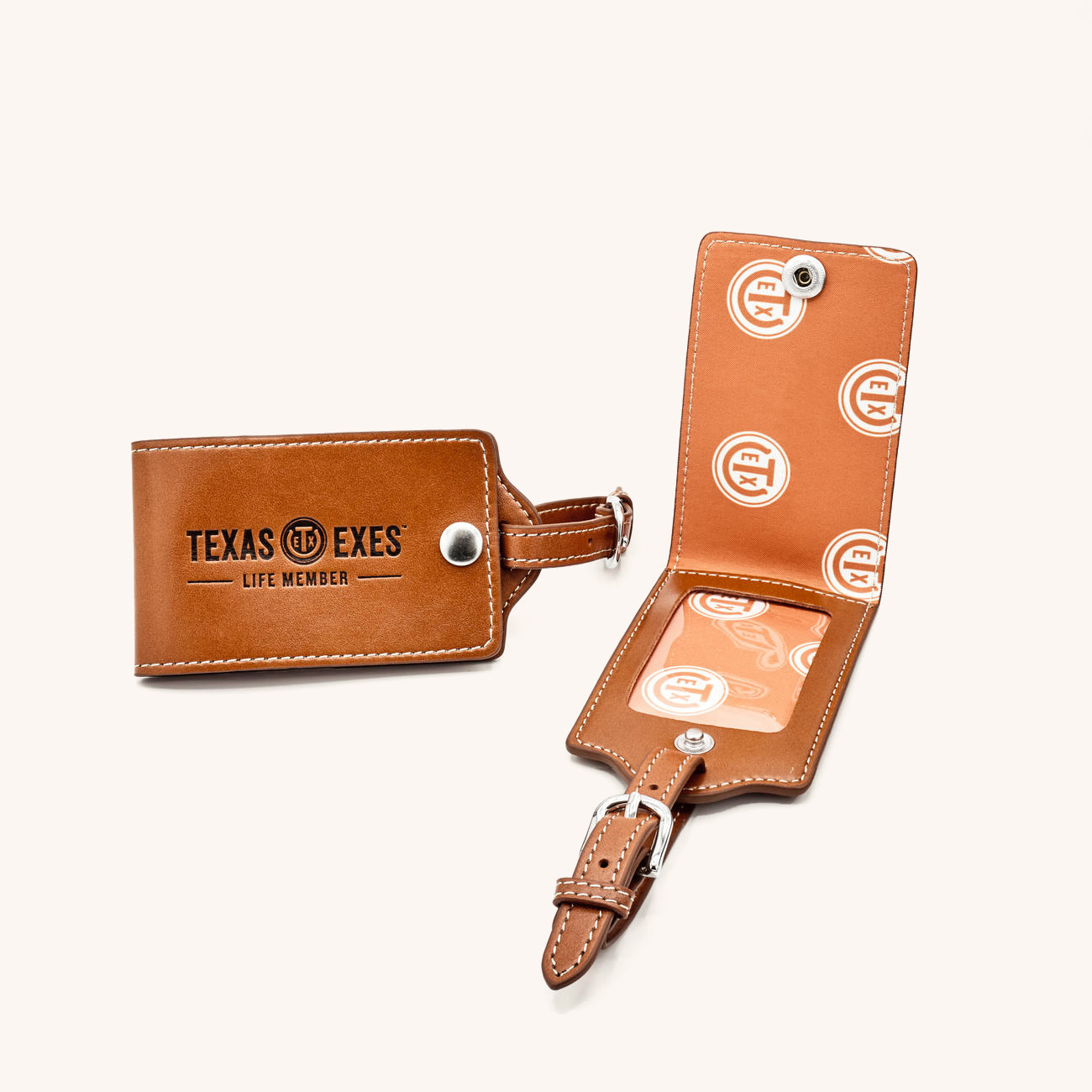 Life Member Luggage Tag
Travel in style with this high-quality leather luggage tag made in the USA, debossed with Life Member logo and Texas Exes logo interior fabric.
$25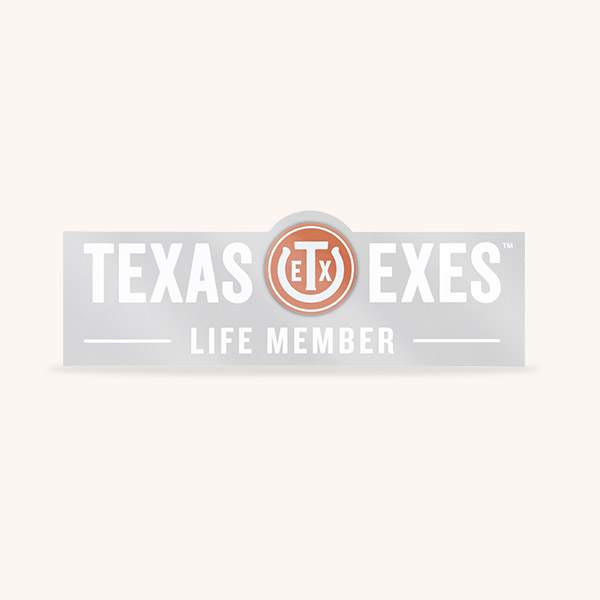 Car Decal
Life Member car decals are exclusive to current Texas Exes Life Members. Annual Member car decals are exclusive to current Texas Exes Annual Members. Replacements can be requested at no charge. To order please call 1-800-369-0023.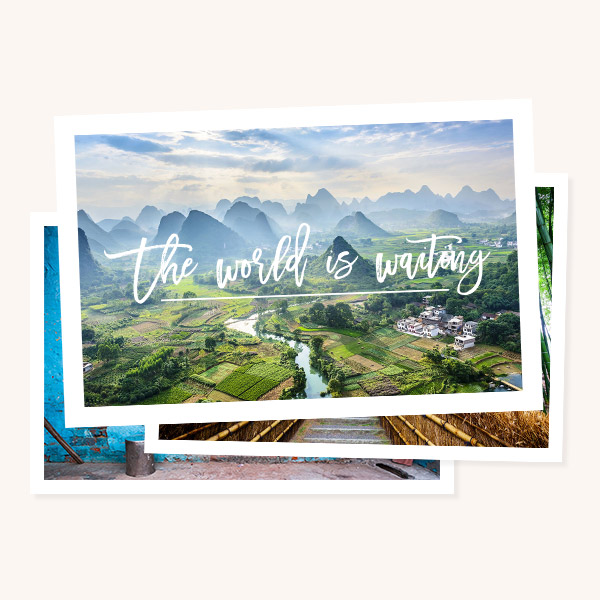 Flying Longhorns Travel
Give the gift of travel and plan the perfect vacation, adventure, special occasion or educational experience to any of the seven continents. The Flying Longhorns program provides first class stress free travel for UT alumni and friends of the university.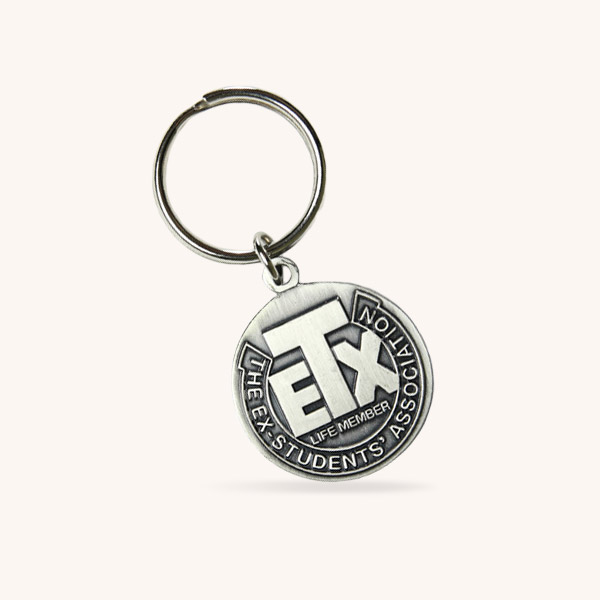 Life Member Keytag
The Texas Exes Life Member key tag is a timeless symbol of strength and great tradition. Life Members can order a replacement key tag which we'll gladly engrave with your Life Member number. Call 1-800-369-0023 or purchase online: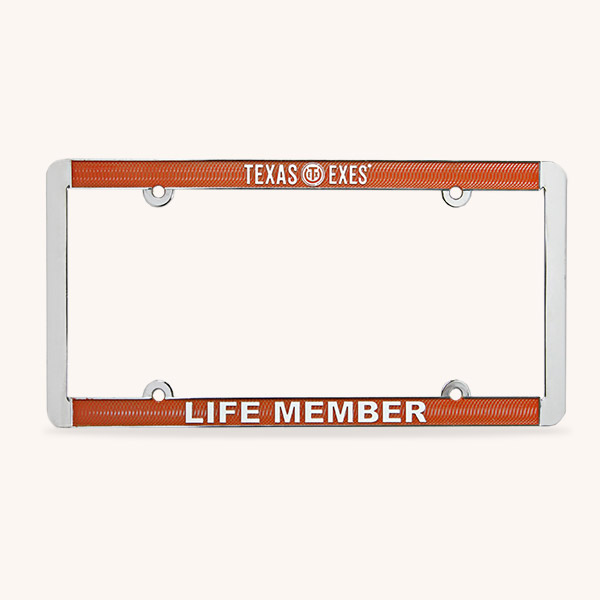 Life Member License Plate Frame
Our specialty metal license plate frames are exclusive for current Texas Exes Life Members. Order a replacement or additional frame today. Call 1-800-369-0023 or purchase online: