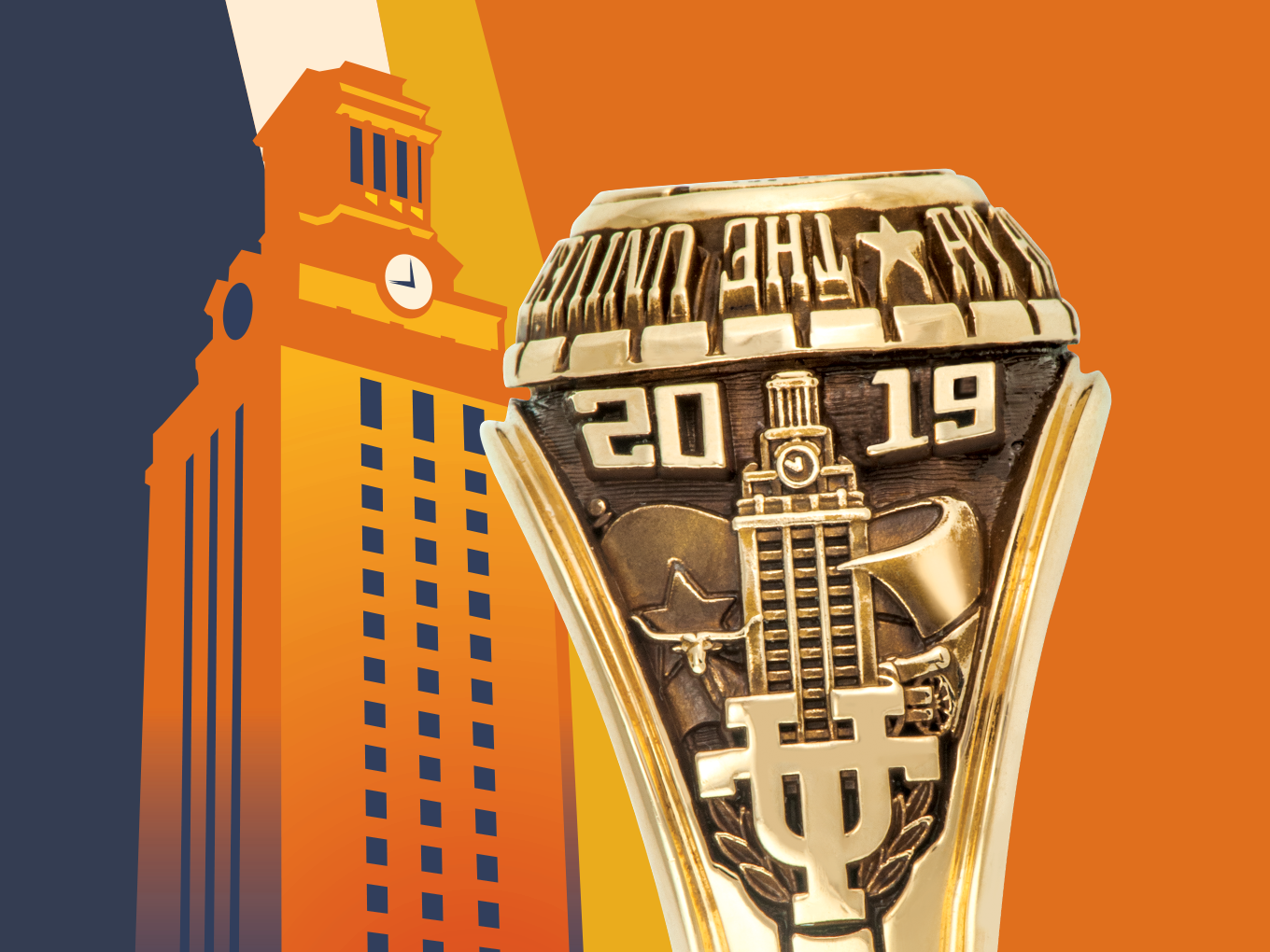 Tower Dedication & Ring Celebration
April 23 & 24
Join over 50,500 Longhorns in this time-honored UT tradition!
A Symbol of History & Tradition
The University of Texas ring was designed in 1996 by a committee of UT students. The UT Ring, rich in symbolism, is a lifelong emblem of burnt-orange pride. It symbolizes academic achievement at the university and is reserved exclusively for graduates and students who have completed at least 75 credit hours.
1.
On one side of the ring is a recognizable symbol: The University of Texas Tower. The Tower, which is made from Indiana limestone and rises 307 feet, was completed in 1936. It has become the defining landmark on the Forty Acres, ever present for decades of campus life.
2.
The top of the ring boasts a handsome version The University of Texas seal. The Latin motto, "Disciplina Praesidium Civitatis," is a quote from former Republic of Texas President Mirabeau Lamar: "Education is the safeguard of democracy."
3.
Scrolled around the outside of the longhorn is the phrase, "The eyes of Texas are upon upon you." The song titled "The Eyes of Texas" made its debut in 1903. UT student John Lang Sinclair first scrawled the words on a scrap of brown laundry paper that is now on display in the Alumni Center.
4.
The longhorn is the mascot of the university. Associated with Texas and the West, the longhorn is a symbol of strength and determination. Bevo, the first live longhorn mascot, made his first appearance in 1916.
5.
Above the longhorn is the Texas Exes symbol. It was first used in 1967 to "brand" ex-students of the university returning to campus for an annual reunion known as Round-Up. On the ring, it signifies that the wearer is linked to generations of University of Texas graduates.
How to Wear Your Ring
While a student, the ring is properly worn with the Tower facing in, signifying it is close to your heart. Upon graduation, the ring should be worn with the Texas Exes symbol facing in.
Frequently Asked Questions
How many completed credit hours do I need to order my ring?
All undergraduates must have 75 completed hours toward their degree to be eligible to purchase a class ring. All graduate students must have 16 completed hours toward their degree to be eligible to purchase a class ring. All hours currently in progress will not be counted toward the total hour count. 
Do all my credits hours have to be UT credit hours?
All hours that count toward your degree—whether earned at UT or transferred in—will count toward the 75 completed hours needed to order your ring.
How long does it take to order a ring during Ring Week?
On average, it can take about 15 to 30 minutes from start to finish to order your ring on-site during Ring Week. You are more than welcome to come one day and return later in the week to make your final purchase, or purchase from home. 
Can I still order my ring if I can't make it to Ring Week?
Yes, you do not have to be present at the event to order your ring. All rings can be ordered online here!
Are there payment plan options available?
Yes, Balfour offers a three-month payment plan option for ring purchases. Please speak with a Balfour representative when ordering your ring to get set up with a payment plan.
I listed my home address with my order. Does that mean my ring won't be here for the Ring Celebration?
All rings will be shipped to the Texas Exes to be included with the Ring Celebration group. If you have any questions about this please contact ClassRings@texasexes.org.
I am a Texas Exes Four-year Student Life Member. How do I redeem my discount?
To redeem your discount, enter your EID in the promo box when placing your order. If you have any issues, please contact ClassRings@texasexes.org. 
Class Ring Lost and Found