Welcome to the Waco Chapter!
The Texas Exes is a self-governed nonprofit organization that exists to promote and protect The University of Texas at Austin and unite alumni around the world. Chapters are local affiliates of the Texas Exes.
Chapters extend the UT experience beyond the Forty Acres, bolster membership in the association, and foster Longhorn fellowship in local communities.
To get in touch and get involved, please contact the Chapter President Richard Dunn
We want to hear from our local alumni!
Please fill out our 3 minute survey here. 
Join your fellow alumni AND FRIENDS OF UT in the Central Texas area for upcoming events 
Ongoing Scholarship Campaign - If you would like to support Waco-area students pursuing higher education at The University of Texas at Austin, make sure to click the donate button to the right of the screen. Your donations are greatly appreciated!
     Join us for our Annual Christmas Party on Tuesday,                      Dec. 11th, 6 - 9 pm, at Moroso Pizza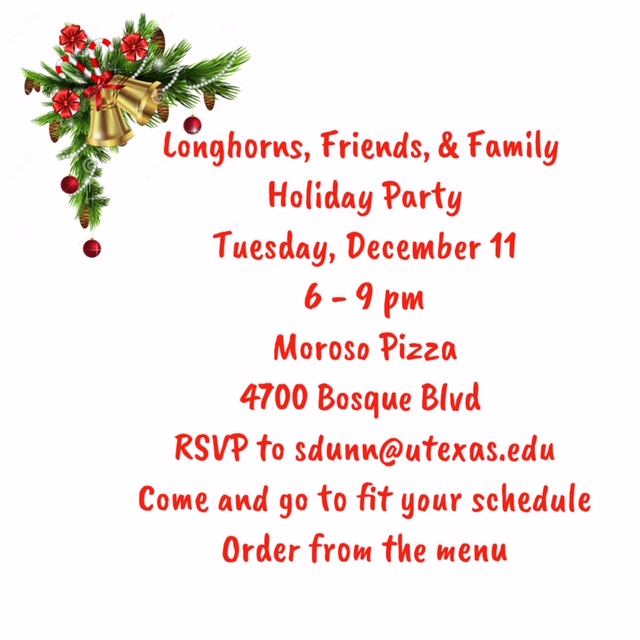 Business Networking (Click here to download the 2018 Schedule) :                              2ND TUESDAY OF THE MONTH, 5:30 - 6:30PM    **SEE CHANGE ABOVE FOR DECEMBER 2018                                                                                                         

Student Send-Off in July

2018 Game Watches  -  PLEASE JOIN US AT COACH'S SMOKE* DOWNTOWN WACO FOR GAME WATCHING 
         *9/22 @ 3:30PM            TCU @ TEXAS - GAME WATCH AT KLASSY GLASS
          9/29 @ 2:30PM            TEXAS @ KANSAS STATE
          10/6     TBD                  TEXAS @ OU (COTTON BOWL, DALLAS, TX)
          10/13   TBD                  BAYLOR @ TEXAS
          10/27   TBD                  TEXAS @ OKLAHOMA STATE 
           *11/3    2:30PM     WEST VIRGINIA @ TEXAS - CHANGE IN LOCATION:  SCOTTY'S BREWHOUSE       
          11/10   @ 6:30pm       TEXAS @ TEXAS TECH
          11/17 @ 7:00PM         IOWA STATE @ TEXAS
      11/23 @ 11 AM           TEXAS @ KANSAS  - NO GAME WATCH DUE TO THANKSGIVING HOLIDAY
  *12/1 TBD                BIG 12 CHAMPIONSHIP GAME 
    *KEEP CHECKING BACK FOR LATEST UPDATE TO SEE IF UT WILL BE PLAYING IN THE BIG 12 CHAMPIONSHIP GAME