Available to
Student Members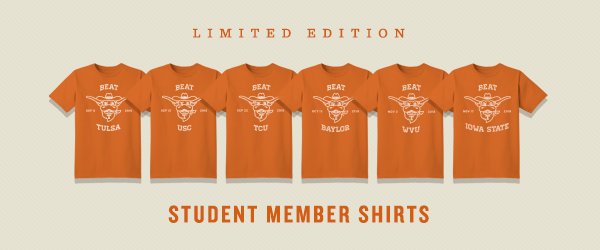 Our football BEAT Shirt program is a favorite tradition with our student members. Limited edition shirts are printed for each home game (plus OU) to give away to the first 100 Student Members who show up at the Tower for our pop-up giveaways. Don't forget to bring your Student Member keytag as proof of membership. Follow @TexasExes on Facebook, Twitter, and Instagram for alerts about BEAT Shirt giveaways!
BEAT shirts are a Student Member benefit. Click here for more information about Student Membership.
Wanna be part of the fun?
If you love Texas Football and want to design this year's BEAT OU Shirt, this is the contest for you! Submit your design and it could be featured on our 2018 BEAT OU shirt. The winner will receive two tickets to the 2018 Red River Showdown.
This annual design contest is open to students-only.
CONTEST TIMELINE
Submissions accepted from Aug. 27 – Sept. 10.
Voting will take place Sept. 12 – Sept. 16.
Winner(s) will be announced Sept. 18.
For contest details and entry information, please visit us here.