Top Faculty Share Advice With Forty Acres Scholars
Posted December 3, 2013
By Amanda O'Donnell in Scholarships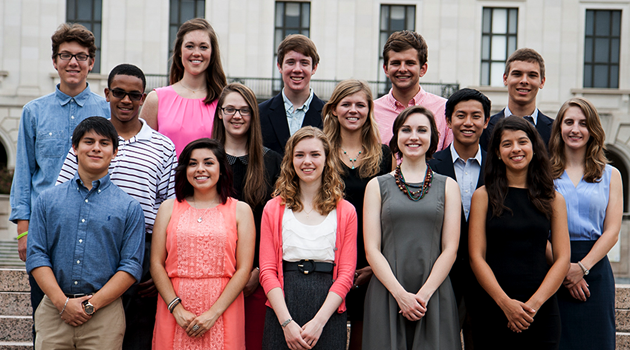 One of the biggest perks of being a Forty Acres Scholar is the opportunity to rub elbows with some of UT's most talented faculty. Case in point: a series of sit-down Forty Acres Discussions (FADs) that the scholars in the Class of 2017 participated in earlier this semester.
Communications professor John Daly, history and public affairs professor Jeremi Suri, and Admiral Bob Inman, former Dean of the LBJ School and Distinguished Alumnus, each had their own opportunity to share wisdom and advice with the scholars. During three two-hour discussions throughout the month of September, held in the Etter-Harbin Alumni Center, the scholars and professors shared a meal and informal conversation before each faculty member stood up to deliver a more formal lecture.
Daly says he understands the importance of lectures and classes, but also stresses the often-forgotten value of conversations that happen in between and outside them. Accordingly, he urged the scholars to appreciate the powerful role communication plays in our world.
"It's about talking to teachers, working with groups of students, making headway with administrative folks," Daly says. He encouraged the group of Forty Acres Scholars to get "adopted" by teachers and become acquainted with the staff in their departments.
"It's all about having a great time socially and intellectually," Daly says. After meeting the scholars, he says he is convinced that they are already on the right track.
"They're such a diverse group of people in terms of interests and backgrounds. I was surprised by how much they genuinely seem to like each other," he says.
Jeremi Suri, the Mack Brown Distinguished Chair for Leadership in Global Affairs, was happily surprised by the concern the Forty Acres Scholars—a group he calls "refreshingly bipartisan"—expressed over their role in the future of society.
"They seem to really recognize that there are some big problems we may have to face as a society, and that it won't be easy, but we must fix them," says Suri. "They had an equal sense of privilege and appreciation for the opportunities that they have been given, but also of responsibility."
While this sense of duty is something Suri admired in the scholars, he encouraged them to not let it dictate every decision they make as students. "Sometimes intelligent risk-taking can yield better results than planning. Take risks. Especially ones that have meaningful value in terms of learning," he says.
Forty Acres Scholar Marlene Renz says that discussions like these have become one of her favorite parts of the program.
"Sitting down with such experienced and impressive people," Renz says, "is a real educational experience." Renz was struck by how approachable the speakers were, and how applicable the topics they discussed were to her own education and future career.
"We talked about success, having impact and the working world," Renz says. "Dr. Daly told us it's the difference between saying, "It's great to see you," instead of, "It's nice to meet you." There are a lot of behaviors that are expected of you in the professional world, and it's great to be taught some of them so early."
Renz says the advice of Admiral Inman, the Centennial Chair in National Policy at the LBJ School, was what resonated most with her.
"Admiral Inman used his life experiences as teaching points. Instead of throwing out advice he told us what he did," Renz says. "The best part of the conversation was discussing travel and work-life balance. He told us flexibility and being willing to try things are essential. He also told us about the importance of reading and staying up to date in the world."