Class of 2023 Freshman Dinner Series Recap
Posted November 22, 2019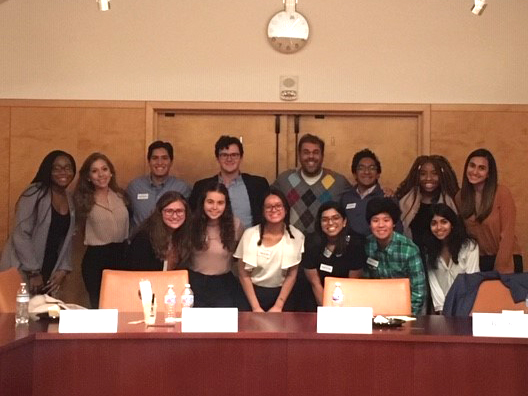 Every Wednesday evening this fall, the Class of 2023 cohort came together for dinner and a lively discussion with UT faculty, staff, and older Forty Acres Scholars. Each week, the discussion featured a topic specific to one of the Forty Acres Scholars Program tenets: Community; Connection; Discovery.  
The Dinner series is a chance for scholars to learn a wide range of skills and lessons as they adjust to their new life on the Forty Acres. Topics include: 
Etiquette Dinner
Freshman Dinner Series Kick-off
Enrichment Stipend
Dr. John Daly 
Relationship Building 
Academics 
Dr. Jeremi Suri 
Wellness 
Social and Extracurricular Activities 
Reflection 
It's also a chance for scholars to step outside the grind of their busy weekly schedules, connect with each other, and build community. "We made the commitment at our Freshman Retreat to be really intentional about seeing each other," said freshman Scholar Eliza Pillsbury, "But our schedules got so crazy once school started. The Wednesday night dinner series became a built-in part of our week where we could check in with each other. I was just really grateful for the intentional time to spend with fellow scholars." 
Below, scholars reflect on their biggest takeaways from the series. 
 "The enrichment stipend is something we have all heard about and are excited about. But the chance to hear from older scholars at the enrichment stipend dinner about how they used their stipend to the fullest really helped me solidify what I'm going to use my stipend for and a chance to get a head start on planning my study abroad. It was so inspiring." Eliza Pillsbury 
"The thing is, every dinner series is different. We talk about everything from mental health to etiquette. And it was never a classroom setting, but more interactive—even when we heard from the professors, Dr. Daly and Dr. Suri. We learned from Dr. Suri about how to make the world a better place by being mindful about our actions. And Dr. Daly told us something that really stuck with me: 'Stop negotiating with yourself.' Meaning if you have to do something or really want to make a change, don't procrastinate or do it to a lesser extent. Do the things you want right now." Arya Saksena 
"Everything we talked about—from mental health to making adjustments to college life—are really important topics for freshmen to know. I loved learning alongside my cohort, who I respect so much, and realizing that the freshman year transition is difficult for everyone was really validating. But I think my favorite thing was chatting with professor John Daly. Getting to interact with such an intelligent and renowned professor was a really special experience. I actually ended up getting coffee with him later because I wanted to pursue that connection, and I wouldn't have done that without the Dinner Series." Meredith Black