Forty Acres Scholars Program Class of 2027 Finalists
Posted February 16, 2023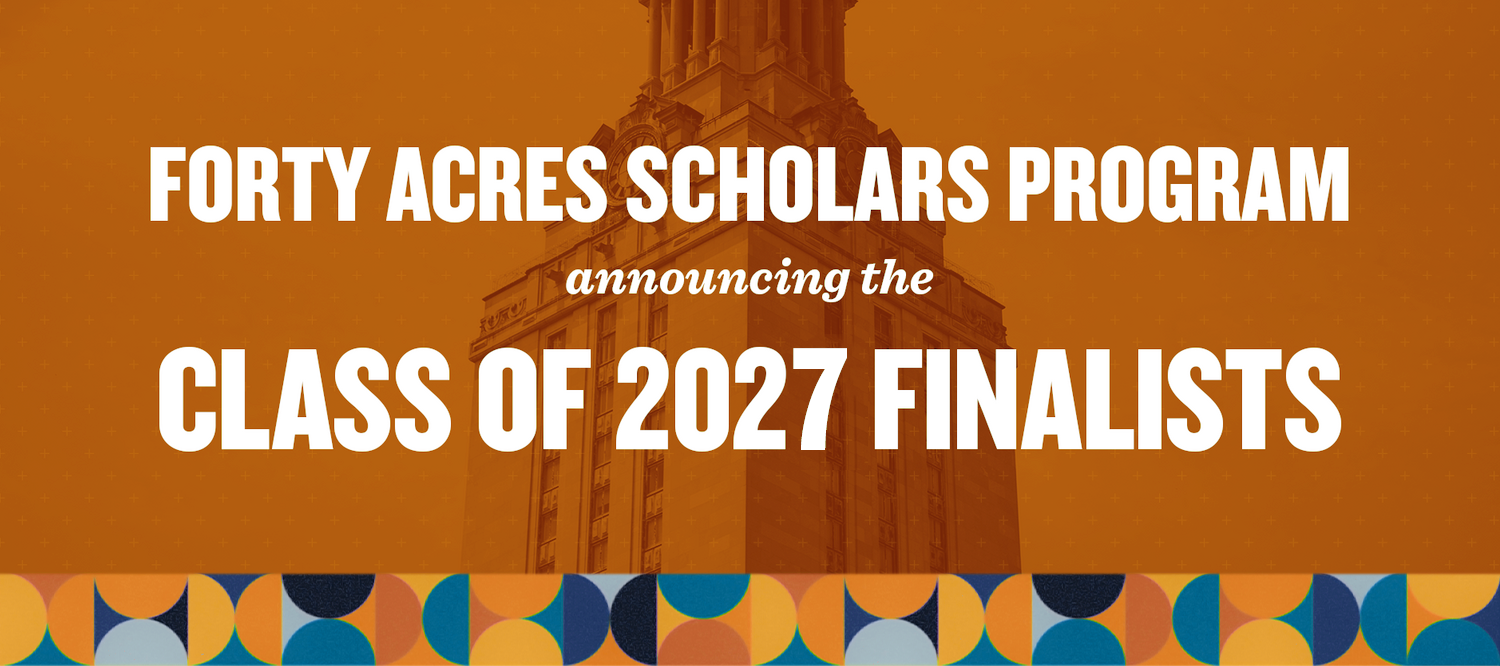 The Forty Acres Scholars Program is proud to announce the 64 Finalists for the Class of 2027. Finalists were selected from 147 semifinalists who were chosen to advance to a video interview.
This year's finalists come from seven U.S. states and have been admitted to 11 different schools and colleges across the university. Many of them participate in nationally recognized organizations and competitions such as DECA and UIL events. Many are also authors, athletes, team captains, researchers, coders, and student council executives. Some are founders of nonprofits, school organizations, and business owners. Their time has been spent participating in countless hours of community service, leading clubs and organizations in their schools, and interning across the nation. 
From March 2–4, 2023, these exceptional high school students will join us on campus to participate in Finalist Weekend. Activities will include visits to their admitted colleges, a mock class with a UT professor, campus and college tours, panels with current Forty Acres Scholars, optional daily activities, and an individual interview.   
The Forty Acres Scholars Program inspires and nurtures visionary leaders and helps them use their talents to benefit society. Our scholars demonstrate intellectual curiosity and a track record of outstanding academic success. Most importantly, they have passion and a desire to live out the core values of The University of Texas at Austin. The three tenets of the program are community, connection, and discovery. The program is a transformational adventure that helps individuals reach their full potential, and, alongside academic achievement, focuses on personal development, relationship building, and gaining perspective. As the only program of its kind administered by an alumni association, Forty Acres Scholars develop a unique relationship with their alma mater and graduate with an extraordinary network of Longhorns standing behind them.  
Scholarship funding provides for tuition, a living stipend, a book stipend, an enrichment stipend, and program activities.  
Meet the finalists:
Amoli Agarwal 
Westwood High School 
Austin, Texas 
---
Jasmine Benau
Mayde Creek High School 
Houston, Texas 
---
Jazlynna Bergeron 
Gainesville High School 
Valley View, Texas 
---
John Thomas Borowitz 
Texas High School 
Texarkana, Texas 
---
Mateo Casanova 
Woodlands High School 
Spring, Texas 
---
Ana Cecilia Catillo Galindo 
Tomball High School 
Tomball, Texas 
---
Rohan Chaudhry 
Half Hollow Hills High School West 
Dix Hills, New York 
---
Iris Cheng 
Seven Lakes High School 
Katy, Texas 
---
Maria Pamela Chow Lomeli 
Tomball High School 
Spring, Texas 
---
Layla Crear 
High School for the Performing and Visual Arts 
Houston, Texas 
---
Matthew Creixell 
Cistercian Preparatory School 
Dallas, Texas 
---
Kiera Dixon 
Round Rock Christian Academy 
Round Rock, Texas 
---
Ella Folh 
George Ranch High School 
Sugar Land, Texas 
---
Sofia Furbeck 
Keller High School 
Keller, Texas 
---
Marco Gonzales 
Dickinson High School 
Dickinson, Texas 
---
Nidhi Gosalia 
Livingston High School 
Livingston, New Jersey 
---
Macy Gregory  
Memorial Senior High School 
Houston, Texas 
---
Sonika Harish 
Lewisville High School 
Lewisville, Texas 
---
Kelsey Head 
Billy C Ryan High School 
Denton, Texas 
---
Jenna Hinz 
Clear Lake High School 
Houston, Texas 
---
Benjamin Howell 
South Cobb High School 
Mableton, Georgia 
---
Olivia Jacoby 
Carroll Senior High School 
Southlake, Texas 
---
Lavik Jain 
Centennial High School 
Frisco, Texas 
---
Jaylen Jamaal Waithe 
Battlefield High School 
Gainesville, Virginia 
---
Ellie Jiang 
Arnold O Beckman High School 
Irvine, California 
---
Karla Jimenez 
Los Fresnos High School 
Brownsville, Texas 
---
Kripa Kannan 
Plano East Senior High School 
Murphy, Texas 
---
Hadia Khatri 
Plano West Senior High School 
Plano, Texas 
---
Akaash Kolluri
William P Clements High School 
Sugar Land, Texas
---
Erick Lara Barrientos
Lockhart High School 
Dale, Texas
---
Kyler Larsen
A&M Consolidated High School 
College Station, Texas
---
Jared Levy
Abraham Joshua Heschel School 
New York, New York
---
Estefania Lopez-Salas 
Episcopal High School 
Houston, Texas 
---
Tina Luo 
Flower Mound High School 
Flower Mound, Texas 
---
Marco Ma 
William P Clements High School 
Sugar Land, Texas 
---
Rohan Mahendru 
Mirabeau B Lamar Senior High School 
Houston, Texas 
---
Palmer Mann 
Trinity School of Texas 
Longview, Texas 
---
Giancarlo Massimo 
Seven Lakes High School 
Katy, Texas 
---
Kennon McNew 
Robinson High School 
Robinson, Texas 
---
Eleanor McWilliams 
Stratford High School 
Houston, Texas 
---
Alyssia Menezes 
Lincoln High School 
Portland, Oregon 
---
Carolina Meza 
Veterans Memorial High School 
Brownsville, Texas 
---
Camila Moreno Juarez 
McAllen Memorial High School 
Hidalgo, Texas 
---
Grace Ogden 
Saint Mary's Hall 
San Antonio, Texas 
---
Jesutofunmi Oluwaleke 
Alief Taylor High School 
Richmond, Texas 
---
David Onadeko 
Garland High School 
Garland, Texas 
---
Reed Paltrow 
Paul D Schreiber Senior High School 
Sands Point, New York 
---
Akash Pradeep 
Liberty High School 
Plano, Texas 
---
Bailey Raymond 
Saint Agnes Academy 
Bellaire, Texas 
---
Julia Reyes 
Douglas MacArthur High School 
San Antonio, Texas 
---
Daniela Rincon Colon 
Seven Lakes High School 
Katy, Texas 
---
Georgia Rocap 
Lubbock High School 
Lubbock, Texas 
---
Alexis Rollings 
Fort Worth Country Day School 
Fort Worth, Texas 
---
Akshaya Sakala 
Camas High School 
Camas, Washington 
---
Lydia Taylor 
Village Tech School 
Cedar Hill, Texas 
---
Abigail Tomaski 
Memorial Senior High School 
Houston, Texas
---
Braiden Touchette 
Travis-Early College High School 
San Antonio, Texas 
---
Laylah Votion 
Young Women's Leadership Academy 
San Antonio, Texas 
---
Peyton Wartell 
Parish Episcopal School 
Dallas, Texas 
---
Valerie Xu 
Greenhill School 
Dallas, Texas 
---
Andres Yengle 
The Post Oak School 
Houston, Texas 
---
Zoe Yu 
The Woodlands College Park High School 
Conroe, Texas 
---
David Zaha 
School of Science and Engineering at
Yvonne A Ewell Townview Magnet Center 
Dallas, Texas 
---
Katherine Zhang 
Kinkaid School 
Houston, Texas 
---