Forty Acres Scholars Program Class of 2026 Finalists
Posted February 24, 2022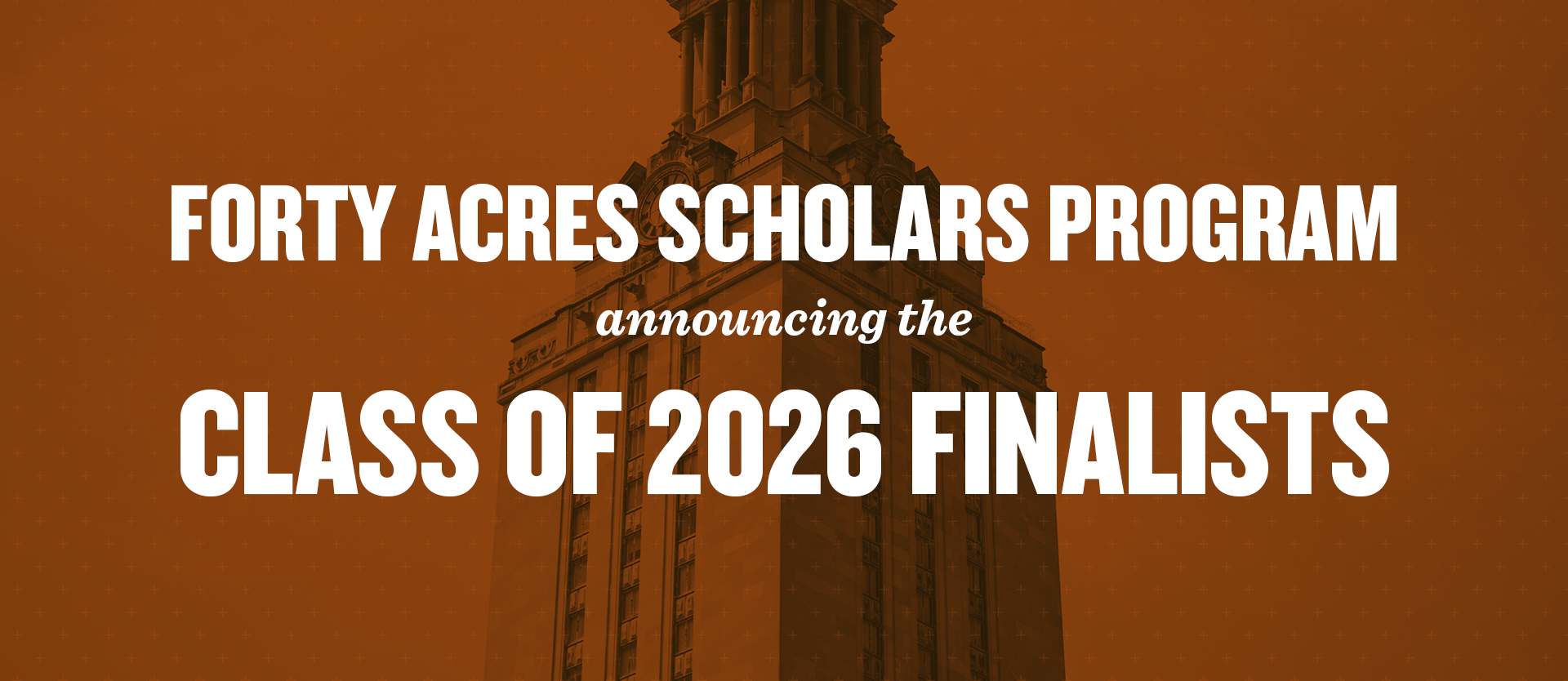 The Forty Acres Scholars Program is proud to announce the 60 finalists for the Class of 2026. Finalists were selected from over 3,400 applicants. Out of those, 143 semifinalists were chosen to advance to a video interview.   
This year's finalists come from six U.S. states and have been admitted to 10 different schools and colleges across the university. Many of them participate in nationally recognized organizations and competitions such as DECA and UIL. Many are also valedictorians, athletes, team captains, musicians, and student body presidents. Some are published authors, founders of nonprofits, school organizations and online platforms, business owners, researchers, and coders. Their time has been spent participating in countless hours of community service, leading clubs and organizations in their schools, and interning across the nation. 
From March 3–5 2022, these exceptional high school students will join us on campus to participate in Finalist Weekend. Activities will include visits with their admitted colleges, a mock class with a UT professor, campus and college tours, panels with current Forty Acres Scholars, optional daily activities, and an individual interview. 
The Forty Acres Scholars Program inspires and nurtures visionary leaders and helps them use their talents to benefit society. Our scholars demonstrate intellectual curiosity and a track record of outstanding academic success. Most importantly, they have passion and a desire to live out the core values of The University of Texas at Austin. The three tenets of the program are community, connection, and discovery. The program is a transformational adventure that helps individuals reach their full potential, and, alongside academic achievement, focuses on personal development, relationship building, and gaining perspective. As the only program of its kind administered by an alumni association, Forty Acres Scholars develop a unique relationship with their alma mater and graduate with an extraordinary network of Longhorns standing behind them.  
Scholarship funding provides for tuition, a living stipend, a book stipend, an enrichment stipend, and program activities.  
Meet the finalists:
Angeline Aloysius
Rouse High School
Georgetown, TX
---
Leonardo Andrade
YES Prep Public Schools-Gulfton
Houston, TX
---
Christy Attia
iSchool High STEM Academy
Richmond, TX
---
Daniel Baker
Trinity Christian Academy
Dallas, TX
---
Shreya Bhandari
Independence High School
Frisco, TX
---
Urvi Bhatia
DeBakey High School for Health Professions
Houston, TX
---
Melanie Charron
Klein High School
Spring, TX
---
Katherine Chen
Bellaire Senior High School
Bellaire, TX
---
Kelly Chin
Plano East Senior High School
Richardson, TX
---
Hope Coltrin
Stratford High School
Houston, TX
---
Deisiree De Jesus
South Texas ISD World Scholars
Edinburg, TX
---
Eshaan Doke
Allen High School
Allen, TX
---
Joseph Egbe
Longview High School
Longview, TX
---
Lindsay Feinstein
Greenhill School
Dallas, TX
---
Charvi Goyal
Plano West Senior High School
Plano, TX
---
Biyanka Hati
Liberty High School
Frisco, TX
---
Joshua Howard  
Forsyth Country Day School
Winston Salem, NC
---
Hudson Huff
Westlake High School
Sunset Valley, TX
---
Mary (Molly) Hunter
Durham Academy Upper School
Chapel Hill, NC
---
Weiran Jiang
Liberal Arts & Science Academy High School 
Austin, TX
---
Ryan Karkowsky
The Kinkaid School
Houston, TX
---
Weston Kirk
Dripping Springs High School
Dripping Springs, TX
---
Bradley Klinck
Bishop Ireton High School
Alexandria, VA
---
Nickolena Kolev
Burlingame High School
Burlingame, CA
---
Naomi Konuma
Second Baptist Upper School
Houston, TX
---
Ella Krauss
Tomball High School
Magnolia, TX
---
Noa Ksabi
Akiba Yavneh Academy
Dallas, TX
---
Sebastian Kuriakose
West Brook Senior High School
Beaumont, TX
---
Alexander Lacayo
St. Dominic Savio Catholic High School
Austin, TX
---
Rudy Lea
Dallas Christian School
Garland, TX
---
Katy Lin
Carroll Senior High School
South Lake, TX
---
Chelsie Lopez
Empowerment High School
Houston, TX
---
Zoe Marks
Clear Springs High School
League City, TX
---
Afsaneh Masoumi
Hendrickson High School
Pflugerville, TX
---
Sophia Maynard
Mirabeau B. Lamar Sr. High School 
Houston, TX
---
Andrew McAlinden
Vandegrift High School
Austin, TX
---
Luke Miller
Coronado High School
El Paso, TX
---
Abigail Mimbela
Pebble Hills High School
El Paso, TX
---
Lucienne Moran
The John Cooper School
Spring, TX
---
---
Kyan Nandlal
YES Prep Public Schools-North Central
Houston, TX
---
Thomas (Grant) Norsworthy
Clear Falls High School
League City, TX
---
Yahir Olivares
S. P. Waltrip Senior High School
Houston, TX
---
Akshita Rawat
Sandra Day O'Connor High School
Helotes, TX
---
Shana Richards
Sammamish High School
Bellevue, WA
---
Peter Sall
Saint John's School
Houston, TX
---
Corey'L Sams
Providence Classical School
Houston, TX
---
Adalae Simpao
Stephen F. Austin High School
Austin, TX
---
Isabella Soares
Glenda Dawson High School
Pearland, TX
---
Hudson Thomas
Community High School
Rockwall, TX
---
Stephanie Tobias
North Houston Early College High School
Houston, TX
---
John Trahan
Park City High School
Park City, UT
---
Ashleigh Trujillo
Luther Burbank High School
San Antonio, TX
---
Sir Christon Turner
Carver Magnet High School
Houston, TX
---
Wesland Ung
Allen High School
Allen, TX
---
Abraham Vallejo
YES Prep Public Schools-Northside
Houston, TX
---
Stephanie Vela
Veterans Memorial High School
Brownsville, TX
---
Stephanie Wang
Seven Lakes High School
Katy, TX
---
Caroline Wei
The Woodlands High School
Spring, TX
---
Sahan Yerram
Coppell High School
Coppell, TX
---
Christine Yuan
William P. Clements High School
Sugar Land, TX
---