Forty Acres Scholars Program Class of 2025 Finalists
Posted February 22, 2021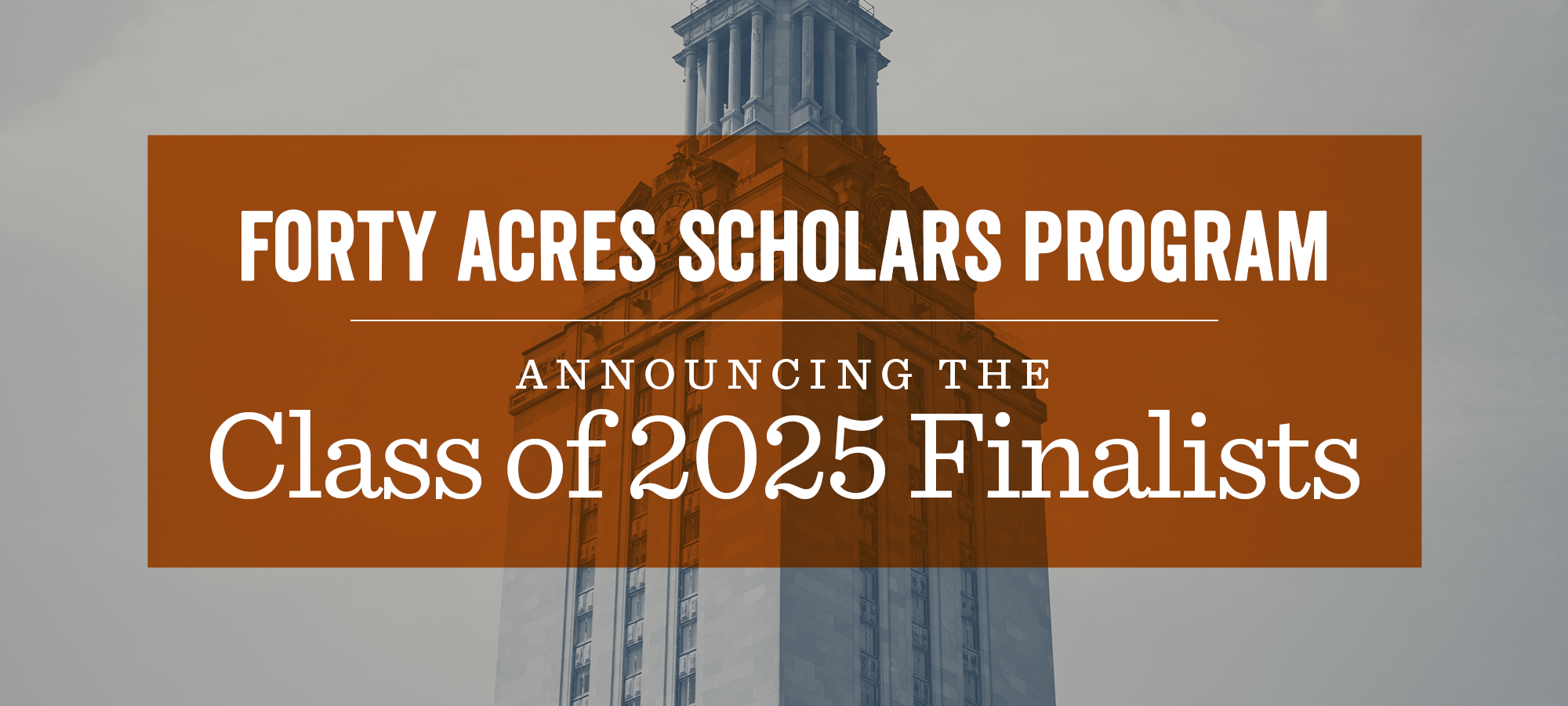 The Forty Acres Scholars Program is proud to announce the 65 finalists for the Class of 2025. Finalists were selected from over 4,700 applicants. Out of those, 173 semifinalists were chosen to advance to a video interview.   
This year's finalists come from six U.S. states and have been admitted to 12 different schools across the university. Many of them participate in nationally recognized organizations and competitions such as Model UN, DECA, and UIL. Many are also athletes, team captains, musicians, and student body presidents. Some are published authors, founders of nonprofits, school organizations and online platforms, business owners, researchers, and coders. Their time has been spent participating in countless hours of community service, leading clubs and organizations in their schools, and interning across the nation.   
From March 4–6, these exceptional high school students will join us online to participate in our first-ever virtual Finalist Weekend. Activities will include visits with their admitted colleges, a mock class with a UT professor, a virtual campus tour, panels with current Forty Acres Scholars, optional daily activities, and an individual interview.   
The Forty Acres Scholars Program inspires and nurtures visionary leaders and helps them use their talents to benefit society. Our scholars demonstrate intellectual curiosity and a track record of outstanding academic success. Most importantly, they have passion and a desire to live out the core values of The University of Texas at Austin. The three tenets of the program are community, connection, and discovery. The program is a transformational adventure that helps individuals reach their full potential, and, alongside academic achievement, focuses on personal development, relationship building, and gaining perspective. As the only program of its kind administered by an alumni association, Forty Acres Scholars develop a unique relationship with their alma mater and graduate with an extraordinary network of Longhorns standing behind them.  
Scholarship funding provides for tuition, a living stipend, a book stipend, an enrichment stipend, and program activities.  
Meet the finalists:
Brydn Abraham 
Centennial High School
Frisco, TX
---
Stephanie Aguilera 
North Mesquite High School
Mesquite, TX
---
Angeline Ajit 
Texas Academy of Mathematics and Science 
Denton, TX
---
Olutoni Akintoye 
KIPP Houston High School 
Houston, TX
---
Sameer Balhara 
Denmark High School 
Alpharetta, GA
---
Kuba Bard 
Cedar Park High School 
Cedar Park, TX
---
Kinza Barrister 
Great Hearts Irving 
Irving, TX
---
Vivek Beeram 
Saint Mary's Hall High School 
San Antonio, TX
---
Stephano Boyer-Paulet 
South Texas ISD Science Academy 
Mercedes, TX
---
Avery Brooks 
Georgetown High School 
Georgetown, TX
---
Andrés Buckley 
Franklin High School 
El Paso, TX
---
Frances Cates 
Hutchison School 
Memphis, TN
---
Esha Chakraborti 
The Woodlands College Park High School 
The Woodlands, TX
---
Felix Chen 
Westlake High School 
Austin, TX
---
Melissa Derzavich 
Dr. Michael M. Krop Senior High School 
Miami, FL
---
Tanya Dhingra 
Klein Cain High School 
Klein, TX
---
Jeremiah Do  
Garland High School 
Garland, TX
---
Ethan Fang 
The Kinkaid School 
Houston, TX
---
Alicia Flores 
New Caney High School 
New Caney, TX
---
Sofia Flores 
South Texas ISD Science Academy
Mercedes, TX
---
Faith Fulbright 
Permian High School 
Odessa, TX
---
Sanjna Ganjam 
William B. Travis High School 
Richmond, TX
---
Leila Garza 
Milby High School 
Houston, TX
---
Kayla Gillen 
Leander High School 
Leander, TX
---
Laysha Gonzalez 
J.W. Nixon High School 
Laredo, TX
---
Nina Hamuy 
Pine Crest School 
Fort Lauderdale, FL
---
Genevieve Holliday 
Cherry Creek High School 
Greenwood Village, CO
---
Tonya Hu 
Dulles High School 
Sugar Land, TX
---
Holly Hull 
St. Paul High School 
Shiner, TX
---
Eleanor Hutcheson 
Westlake High School 
Austin, TX
---
Noura Jabir 
St. John's School 
Houston, TX
---
Helen Jayesh 
Earl Warren High School 
San Antonio, TX
---
Esther Jin 
Clear Springs High School 
League City, TX
---
Abhinav Karthikeyan 
Richard Montgomery High School 
Rockville, MD
---
Stella Kastanek 
Bishop Lynch High School 
Dallas, TX
---
Leah Kegerreis 
Trinity Christian Academy 
Addison, TX
---
Aiden Lesneski 
Northside Health Careers High School 
San Antonio, TX
---
Niels Levy-Thiebaut 
Michael E. DeBakey High School for Health Professions 
Houston, TX
---
Cindy Li 
Glenda Dawson High School 
Pearland, TX
---
---
Glen Liu 
Westwood High School 
Austin, TX
---
Emma Lloyd 
Woodrow Wilson High School 
Dallas, TX
---
Anoushka Luis 
Frisco High School 
Frisco, TX
---
Joshua Martin 
Highland Park High School 
Dallas, TX
---
Ethan Morales 
YES Prep Southeast
Houston, TX
---
Lisa Morin 
IDEA San Benito College Preparatory 
San Benito, TX
---
Ashwin Murali 
Glenda Dawson High School 
Pearland, TX
---
Joseph Newcomer 
School of Science and Engineering 
Dallas, TX
---
Rishi Niranjan 
Plano West Senior High School 
Plano, TX
---
Cristian Olivarez 
La Feria High School 
La Feria, TX
---
Elizabeth Palomares Guzman 
YES Prep Northside 
Houston, TX
---
Max Palys 
St. Mark's School of Texas 
Dallas, TX
---
Patrick Pham 
St. Thomas High School 
Houston, TX
---
Daniela Ponce Cartagena 
IDEA Carver College Preparatory 
San Antonio, TX
---
Chardelene Reyes 
Cypress Springs High School 
Cypress, TX
---
Melissa Richardson 
Dripping Springs High School 
Dripping Springs, TX
---
Diego Robbins 
Legacy of Educational Excellence High School 
San Antonio, TX
---
Mia Li Rodriguez 
Los Fresnos High School 
Los Fresnos, TX
---
Aiden Ross 
School for the Talented and Gifted 
Dallas, TX
---
Jordan Sampey 
Southwest High School 
San Antonio, TX
---
Noura Shoukfeh 
Lubbock High School 
Lubbock, TX
---
Caedon Spencer 
James Bowie High School 
Austin, TX
---
Aylin Tanriverdi 
Westwood High School 
Austin, TX
---
Nicholas Van Lente 
James Bowie High School 
Austin, TX
---
Michelle Wang 
Clements High School 
Sugar Land, TX
---
Shirley Zhu 
Bellaire Senior High School 
Bellaire, TX