Forty Acres Scholars Program Class of 2024 Finalists
Posted February 18, 2020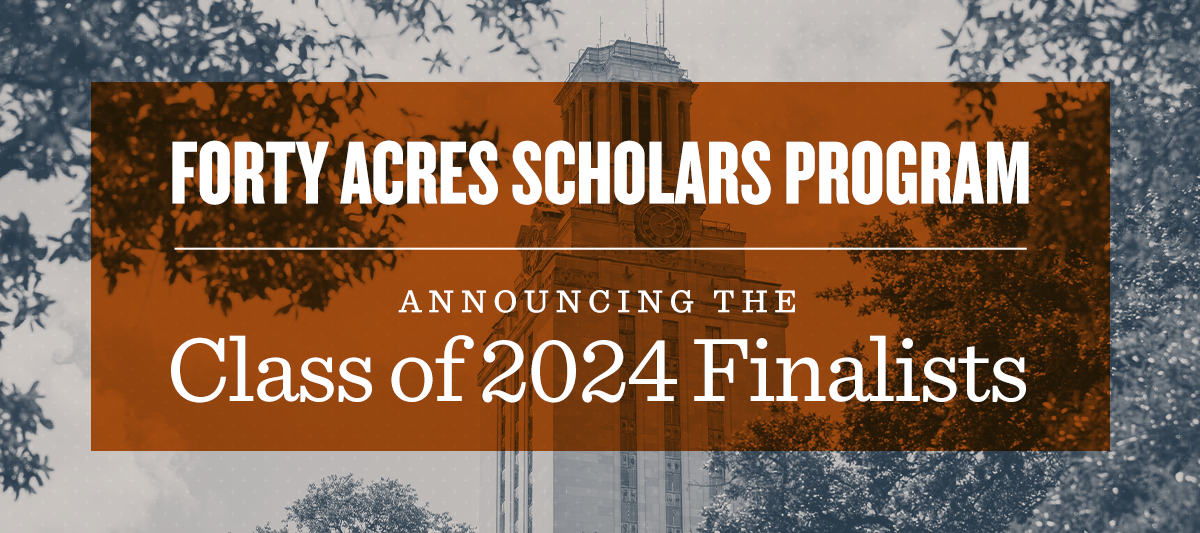 The Forty Acres Scholars Program announced 53 finalists for the Class of 2024. Finalists were selected from over 3,800 applicants. Out of those, 193 semifinalists were chosen to advance to a phone interview.  
This year's finalists come from seven U.S. states and have been admitted to eight different schools across the university. Many of them participate in nationally recognized organizations and competitions such as Model UN, DECA, and UIL. Many are also athletes and team captains. Some are NASA interns, founders of nonprofits and online platforms, business owners, researchers, coders, speakers at local and national conventions, musicians, dancers, published storytellers, and student pilots. Their time has been spent participating in countless hours of community service, leading clubs and organizations in their schools, and interning across the nation.  
From March 4–7, these exceptional high school students will visit campus to participate in Finalist Weekend. Activities include a visit to their admitted college, class visits, panels with current Forty Acres Scholars, dinner with alumni, and an individual interview.  
The Forty Acres Scholars Program inspires and nurtures visionary leaders and helps them use their talents to benefit society. Our scholars demonstrate intellectual curiosity and a track record of outstanding academic success. Most importantly, they have passion and a desire to live out the core values of The University of Texas at Austin. The three tenets of the program are community, connection, and discovery. It is a transformational adventure that helps individuals reach their full potential, and, alongside academic achievement, focuses on personal development, relationship building, and gaining perspective. As the only program of its kind administered by an alumni association, Forty Acres Scholars develop a unique relationship with their alma mater and graduate with an extraordinary network of Longhorns standing behind them. 
Scholarship funding provides for tuition, a living stipend, a book stipend, an enrichment stipend, and program activities. 
Meet the finalists:
Vaishnavi Addala 
Westlake High School
Austin, TX
---
Avery Ambrose 
Westlake High School
Austin, TX
---
Reese Arterberry 
Ponder High School
Ponder, TX
---
Yunbeen Bae 
Rick Reedy High School
Frisco, TX
---
Jackson Bellard 
Galena High School
Reno, NV
---
Emine Ciftci 
Lawrence E. Elkins High School
Missouri City, TX
---
Jannah Collins 
Kinder High School for the Performing and Visual Arts
Houston, TX
---
---
Sydney Collins 
Vandegrift High School
Austin, TX
---
Ethan Davila 
Nikki Rowe High School
McAllen, TX
---
Kien Deshpande 
Mirabeau B. Lamar High School
Houston, TX
---
Daija Esparza 
PSJA North Early College High School
Pharr, TX
---
Katrina Fierro 
McNeil High School
Austin, TX
---
Will Florer 
Jesuit College Preparatory School of Dallas
Dallas, TX
---
Thomas Grannen 
St. John's School
Houston, TX
---
Nikhil Guddati 
Flower Mound High School
Flower Mound, TX
---
Jorge Guerra 
Sharyland High School
Mission, TX
---
Anushka Gupta 
Centennial High School
Frisco, TX
---
Kyla Guru 
Deerfield High School
Deerfield, IL
---
Connor Hrachovy 
St. John's School
Houston, TX
---
Shevali Kadakia 
Archbishop Mitty High School
San Jose, CA
---
Addison Kahle 
Birdville High School
North Richland Hills, TX
---
Nikita Kakkad 
Westlake High School
Austin, TX
---
Helen Kalleb 
Bishop Lynch High School
Dallas, TX 
---
Spandana Kamepalli 
Vandegrift High School
Austin, TX
---
Melissa Khasbagan 
Westlake High School
Austin, TX
---
Pranitha Kona 
Coppell High School
Coppell, TX
---
Sara Kothia 
Imagine International Academy of North Texas
McKinney, TX
---
Sophia Li 
Plano East Senior High School
Plano, TX
---
Amanda Mackenzie 
Trinity Valley School
Fort Worth, TX
---
Lana Mohamed 
Claudia Taylor Johnson High School
San Antonio, TX
---
Aria Morgan 
Garland High School
Garland, TX
---
Morgan Myhill 
Kent Denver School
Englewood, CO
---
Reese Neal 
Texas Academy of Mathematics and Science
Denton, TX
---
Alice Nguyen 
Friendswood High School
Friendswood, TX
---
Amelia Nickerson 
Vandegrift High School
Austin, TX
---
Ritika Palacharla 
Carnegie Vanguard High School
Houston, TX
---
Aleah Parafinczuk 
Loyola Academy
Wilmette, IL
---
Devan Patel 
St. Mark's School of Texas
Dallas, TX 
---
Olivia Pierce 
Oliver Ames High School
Easton, MA
Oliver Ames High School 
Easton, MA 
---
Anoushka Ramesh 
Texas Academy of Mathematics and Science
Denton, TX
---
Jack Roehr 
Sphairo Academy
Houston, TX
---
Elle Smith 
Cedar Ridge High School
Round Rock, TX 
---
Kylie Sommer-Kohrt 
Grafton High School
Yorktown, VA 
---
Walter Stark 
Plano Senior High School
Plano, TX
---
Charles Stock 
Bishop Lynch High School
Dallas, TX 
---
Rayan Tejani 
Allen Academy
Bryan, TX 
---
Roman Ugarte 
Liberal Arts and Science Academy
Austin, TX
---
Kaya Unalmis 
Kingwood High School
Kingwood, TX
---
Stacy Wang 
Highland Park High School
Dallas, TX
---
Blaire Wartell 
Parish Episcopal School
Dallas, TX
---
Elizabeth Whiteside 
Woodrow Wilson High School
Dallas, TX
---
Ashley Xie 
Highland Park High School
Dallas, TX
---
Matthew Yekell 
St. John's School
Houston, TX