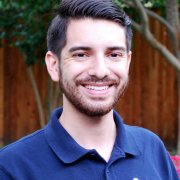 Born and raised in Victoria, TX (with a few years in La Place, LA) John graduated in 2010 with a Liberal Arts degree in History and a minor in Spanish. Following that, he earned his Masters in Management from Wake Forest University in 2011.
John has been actively involved in the Texas Exes Pride Alumni Network since attending the first Alumni Reception following Lavender Graduation in May 2012, and then he got involved with network activities organized in Houston by past Network Co-Chair, Jamie Gonzales. He served as Network Secretary from 2013-14 and as Network Chair from 2014-2016.
He works on the Administrative Systems Modernization Program (ASMP) at UT as the Payroll Business Analyst.
John and his husband Morgan live on the Upper East Side of Austin with their two orange & white tabby cats. When he's not working or staying involved with the Network, he's staying busy as President-elect of the Kiwanis Club of Austin-Northeast, advising the Circle K International chapters at UT and Austin Community College, contributing to the University Hills Neighborhood Association, and serving on the Dottie Jordan Park Advisory Board.
---
Duties of the Network Past Chair
Attend all board meetings and advise/consult with current chair