Our volunteers
2015-16 Network Secretary: Adam Nguyen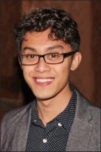 Adam Nguyen is originally from Vietnam, but moved to Houston with his family in 1992. In 2009, at the age of 20, Nguyen received dual degrees in Urban Studies and Sociology from the University of Texas. Afterwards, Nguyen went on to obtain his Masters in Architecture from the University of Houston in 2013.
As a student, Nguyen was always active in different organizations such as the Sociology Honor Society (Secretary), HangOut (Public Relations), Materials Research Collaborative (Assistant Director), and Office of Sustainability (Marketing Intern).
As a professional, Nguyen is currently working at WHR Architects based in Houston. He is committed to enhancing the built environment through design and is a member of AIA Houston. Beyond the built environment, his commitment to social change has led him to the position of Secretary Chair of the Texas Exes LGBT Network.
When he's not in the office, Nguyen likes to partake in various activities such as yoga, skydiving, running, hang gliding, weight lifting, sports, and design competitions.
2015-16 Webmaster Chair: Lai Salim
HI! My name is Lai and I proudly serve as our Webmaster Chair. In this role, I manage our social media presence on Facebook, LinkedIn, Twitter, Google+, and Instagram. Through these sites, I maintain cohesiveness with our brand to welcome all members of the LGBTQIA (Lesbian, Gay, Bisexual, Transgender, Queer, Intersex, Asexual, and Allies), promote upcoming events of ours, and work to spread the news that affect our queer community locally and nationally.  
I graduated from the University of Texas at Austin in 2014 \m/ and I've worked for a tech-Startup with a focus on content marketing since. I enjoy learning about the operations of our department, product creation and experience, and the retention and life-cycle of customers. In my free time, I enjoy the outdoors! Everything from hiking, to biking, to laying out. 
As for my personal connection to the community, I believe in creating safe, fun, and self-developing spaces for the LGBTQIA community to grow personally and professionally. I identify as gender-neutral with pronouns they/them/their! We welcome this diversity, so please, embrace and join our community. We're excited to have you. Hook 'Em!
2015-16 Networking & Socials Committee Chair: Jerrad Parise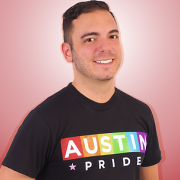 Jerrad moved to Austin in the summer of 2015 to finish his bachelors in business and pursue a career in banking. He currently interns as a lending assistant at American Bank of Commerce. He first began got involved with the Network at a monthly Show Your Horns social at Highland lounge. He also serves on the Austin PRIDE Board of Directors as Pride Week Director. In his spare time, Jerrad enjoys hanging out with friends, spending time outdoors, and traveling.