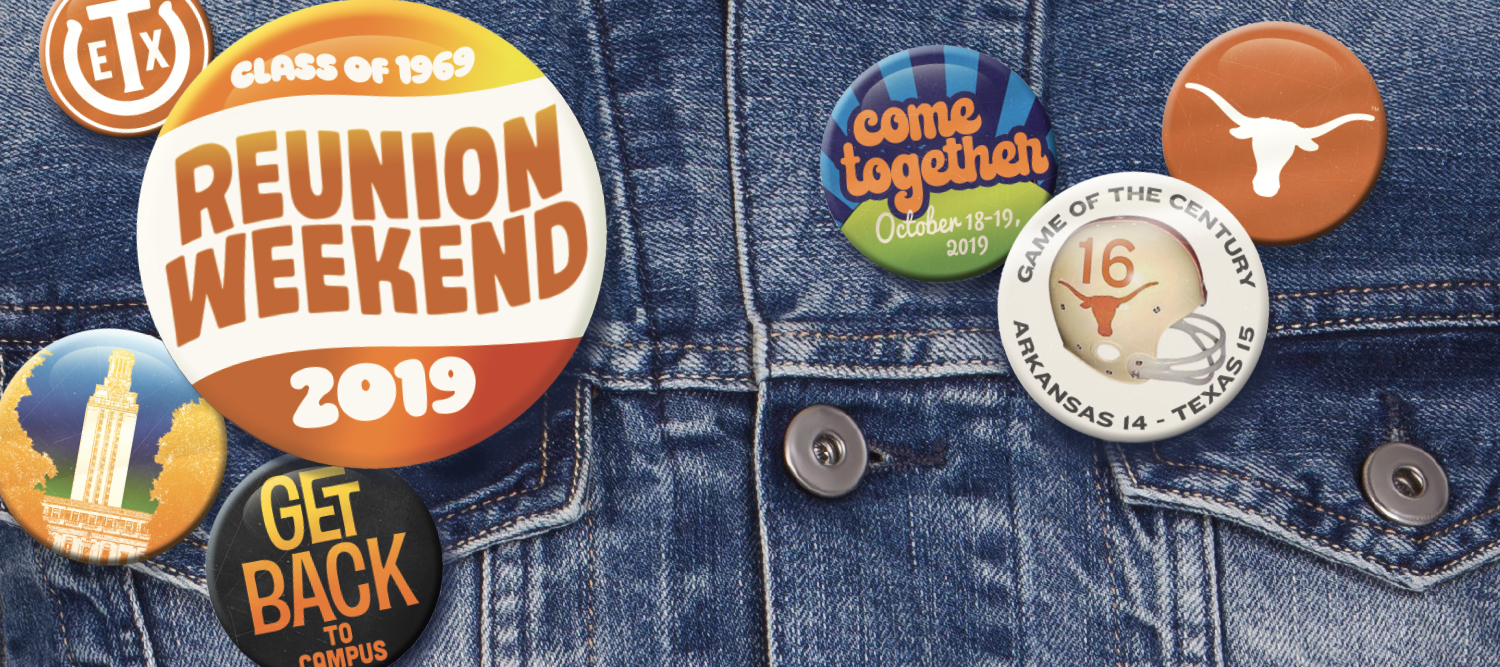 It's been 50 years. Campus is calling you back.  
Mark your calendars for October 18–19 and join us for Reunion Weekend, celebrating the Class of 1969. It was an incredible year for UT football—a national championship in fact—so what better way to mark this milestone than a weekend full of fun and Texas football?   

Kickoff Luncheon with Dr. Jeremi Suri • Campus Tour • Cocktail Reception • Private Tailgate & BEVO Blvd • Group Football Ticket Availability • See the full schedule below!
Interested in sitting with your fellow classmates at UT vs. Kansas?
UT Athletics anticipates a July or August release date for single-game football tickets. When they go on sale, you may also purchase group tickets for an additional fee. Go to TexasSports.com/promos or call 512-471-3333 for more info. And don't forget to use the promo code EXES69 when you buy!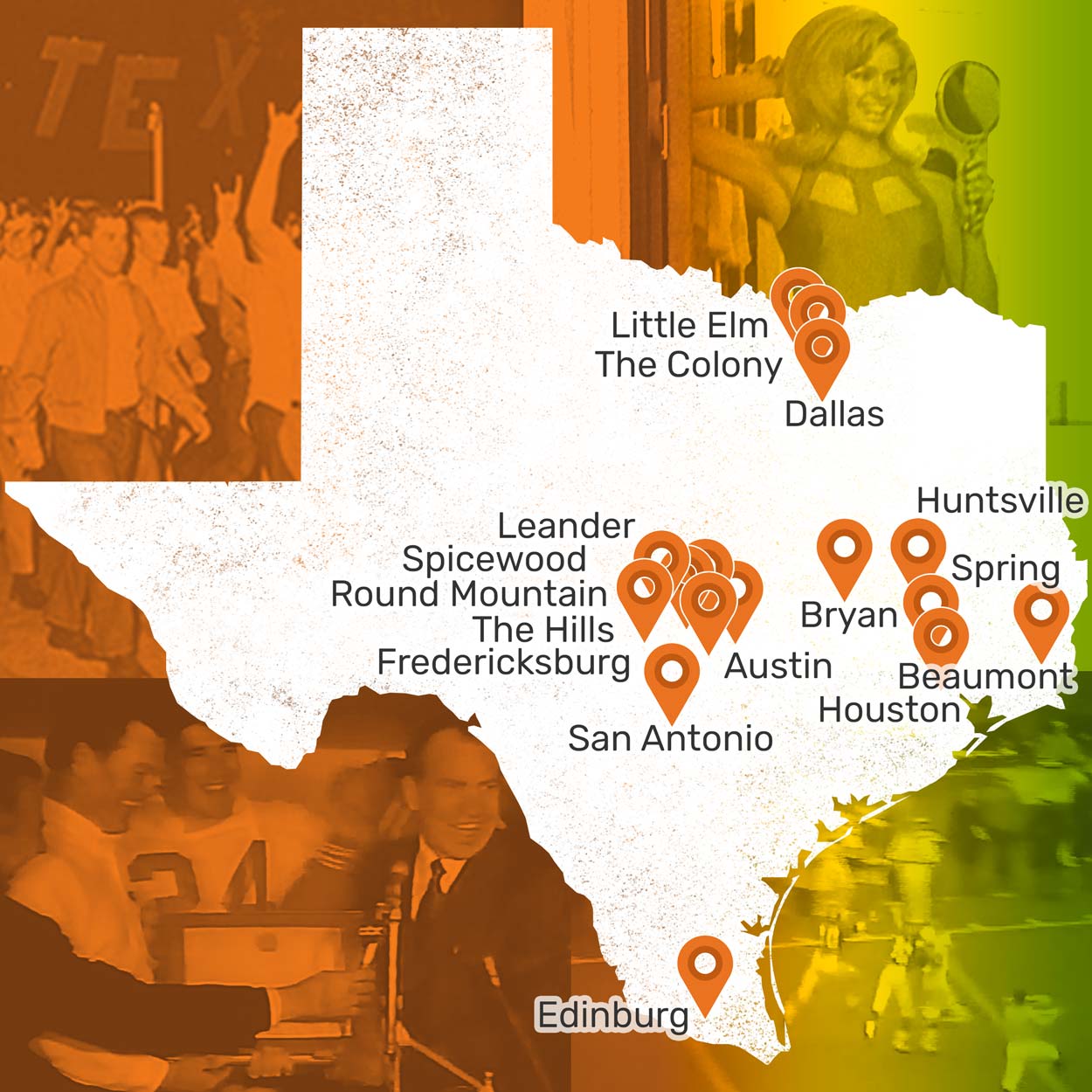 Longhorns are coming from near and far to reunite on the Forty Acres
Friday 
10: 30 a.m. - 11:15 a.m. Park at San Jacinto garage and catch a complimentary shuttle to the Student Union  

11:15 a.m. Welcome and packet pick up at Student Union

11:30 a.m. Lunch buffet at Student Union

12:00 p.m. - 1:15 p.m. Lunchtime Lecture with Dr. Jeremi Suri  "50 Years Since 1969: What are the Historical Legacies for Today?"

1:45 p.m. - 2:00 p.m. Group Photo at Tower

2:00 p.m. - 3:00 p.m. Short Walking Tour - See how campus has been transformed! Enjoy a docent-led walking tour of Speedway highlighting some of the fun changes happening on campus. 

2:45 p.m. - 3:00 p.m. Shuttles begin looping between Speedway, San Jacinto Garage and Alumni Center 

3:00 p.m. - 3:45 p.m. Surprise Event

3:45 p.m. - 6:00 p.m. Free Time

6:30 p.m. - 8:30 p.m. Reception at Bob Bullock featuring hors d'oerves, full bar, music from 1969, 50-year toast and pin ceremony (park in the underground garage). 

8:30 p.m. Free time
Saturday 
Three hours before kickoff - Private, "Come and Go" Tailgate at the Etter-Harbin Alumni Center. Drop by the Alumni Center before checking out BEVO Blvd. and Longhorn City Limits. The tailgate includes two drink tickets and light bites. 
Update: We just added a second block of rooms at the DoubleTree on 15th Street so book your room soon! A two-night stay is required. Book online or call 1-800-222-8733 and mention the group code EXE to access special rates. Space is limited!
DoubleTree Suites by Hilton Hotel Austin 
303 W. 15th Street, 78701 
(512) 478-7000
OTHER NEARBY HOTELS
(Special room block rates not available)
AT&T Executive Education and Conference Center
1900 University Avenue, 78705
(512) 404-1900
Hampton Inn & Suite Austin
1701 Lavaca Street, 78701
(512) 499-8881
Fairmont Austin
101 Red River Street, 78701
(512) 600-2000
Four Seasons Hotel Austin
98 San Jacinto Boulevard, 78701
(512) 478-4500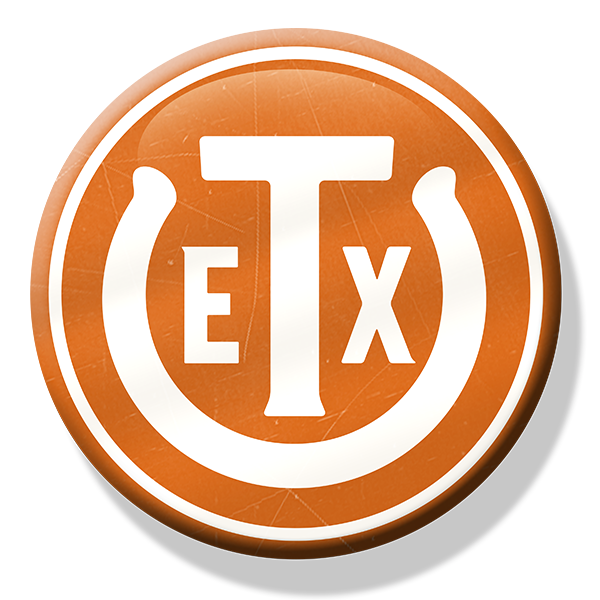 Questions?
If you have any questions, please contact Roxanne Garza at Roxanne.Garza@texasexes.org or (512) 840-5651.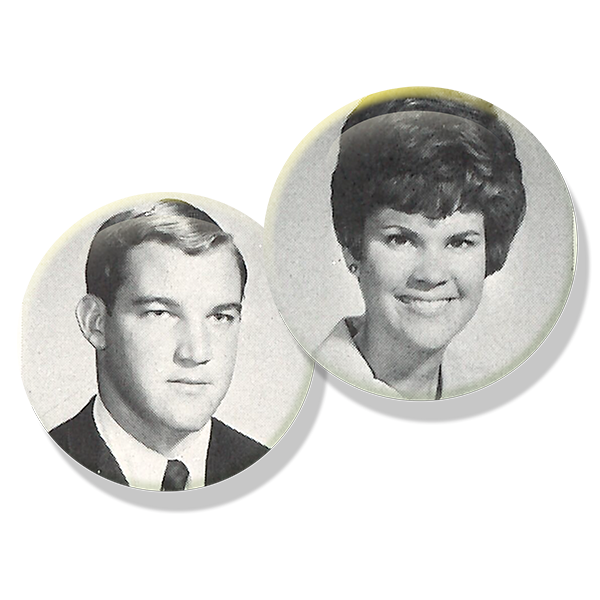 A Note from Co-Chairs Melinda & Mike Perrin
1969 was an influential year – America landed on the moon, George left the Beatles, Matthew McConaughey was born, and you graduated from one of the best universities in the country. Come back to campus, reconnect with old friends, enjoy Reunion Weekend, and see the history that has been made since you left!
COMMITTEE MEMBERS
Ed Auler, Susan Scott Birdwell, Brenda Cook Ciolone, Drew Darby, Noble Doss, Bob Estrada, Kathy Holmes Ritter, Kenny & Susie Jastrow, Carol Looney, Lawson Magruder, Ann & J.D. McCaslin, Mary & Baker Montgomery, Pam Ott, Jan Powell Patterson, Barbara & Corby Robertson, Craig Stripling, Laura Overton Wheless, Judith & Andrew White