Facts About Campus Carry
UT-Austin cannot completely ban guns on campus. The law outlines that plans for campus carry may not materially prohibit guns on campus.
A task force developed an implementation plan that prioritized campus safety. UT-Austin President Gregory L. Fenves consulted with students, faculty, staff, parents, and alumni and presented a plan to Chancellor William McRaven. The plan was slightly modified and then approved by the Board of Regents. The 19-member working group conducted research, disseminated a public survey, and hosted open forums. Administrators remain committed to minimizing the risk of an incident while complying with the law.
The law does not allow open carry on campus. S.B. 11 only deals with the concealed carry of handguns by CHL (concealed handgun license) holders. It is still illegal to display or openly carry a firearm on campus.
Only legally licensed holders who are 21 years old may carry. S.B. 11 authorizes the carry of a concealed handgun by license holders only. Per state law, CHL holders must be at least 21 years old and have received state-mandated training on handling a firearm in addition to other statutory requirements. UT-Austin estimates that less than 1 percent of students on campus are licensed to carry firearms.
Carrying concealed handguns on campus is currently legal. Since 1995, license holders have been permitted to carry concealed handguns on UT- Austin's campus, but current law prohibits bringing firearms into buildings.
S.B. 11 does not affect fraternity and sorority houses or private residential facilities. S.B. 11's purview includes only campus and the buildings owned or leased by the university.
It is a crime for a license holder to carry a concealed handgun while intoxicated. This is a class A misdemeanor and is punishable by up to one year in jail.
Carrying concealed handguns is already prohibited by law in some spaces on campus. The law specifically prohibits handguns from locations where high school, college, or professional sporting events are taking place. Carrying concealed handguns is also prohibited in schools and childcare facilities, as well as inside the Etter-Harbin Alumni Center building.
Private colleges are able to opt out. The law allows private colleges and universities to opt out of allowing concealed handguns on campus.
Background
On June 1, 2015, Gov. Greg Abbott signed S.B. 11, better known as "campus carry," into law. The law authorizes license-holders to carry their concealed handgun throughout public university campuses beginning on Aug. 1, 2016.
The University of Texas System and UT-Austin were adamantly opposed to the passage of S.B. 11. Both Chancellor McRaven and President Greg Fenves publically spoke out against the legislation, agreeing with their respective predecessors, Chancellor Francis Cigarroa and President Bill Powers.
The Texas Exes advocated for an opt-out provision for UT-Austin and other public institutions, like the one afforded to private institutions. In accordance with our campus safety priority, the Legislature passed a provision that gives university administrators discretion in implementing the law.
Timeline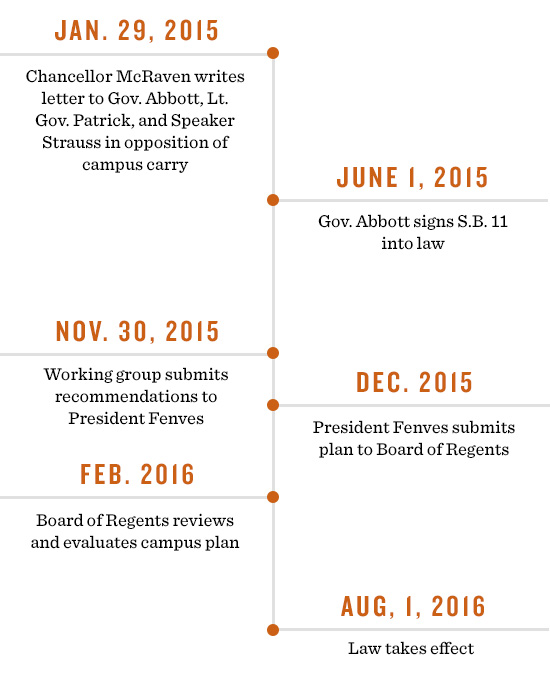 Resources
General Information on Campus Carry from UT Austin
UT Advocates Legislative Priorities on guns on campus
Memorandum to UT System executive officers and campus presidents concerning implementation of the campus carry legislation
Statement from Chancellor William H. McRaven on passage of campus carry legislation
Statement from UT Austin President Gregory L. Fenves on campus carry legislation
Sept. 30 Public Forum Livestream