From time to time, there emerges an individual who was not a student at the University of Texas at Austin whose service makes a profound and positive difference to the university. In recognition of this remarkable service, the Texas Exes may, by consensus of its past presidents, present a special award in conjunction with the annual Distinguished Alumnus Awards. The merit of the award is defined by the quality and stature of recipients, and is not routinely awarded.
2016 Recipient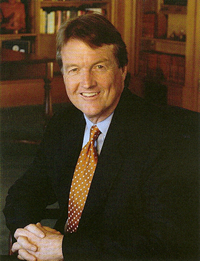 William Powers, Jr., Life Member
William Powers was the 28th president of the University of Texas at Austin. The second-longest serving president in university history, he held the position from 2006-15. He joined the university in 1977 as a professor in the School of Law and would later become its dean, rising to national prominence when he was appointed to investigate the collapse of energy giant Enron. As president, Powers presided over a reform of the undergraduate curriculum, instating mandatory Signature Courses for all freshmen. He founded two schools: the School of Undergraduate Studies and the Dell Medical School. Powers launched and finished the Campaign for Texas, an eight-year fundraising effort that raised $3.1 billion, and oversaw the construction of 13 new buildings on the campus. Supported by alumni, faculty, students, staff, and the Texas Legislature, Powers defended the research university mission and was elected chair of the Association of American Universities in 2013. He has since returned to teaching in the School of Law, where he holds the Joseph D. Jamail Centennial Chair in Law and University Distinguished Teaching Professor.
2014
Jody Conradt 
Former Head Coach of Women's Basketball Team, Former Women's Athletics Director, Texas Longhorns
2010
DeLoss Dodds 
Former Men's Athletics Director, Texas Longhorns
2006
Darrell K Royal 
Former Head Football Coach, Texas Longhorns
2005
Elspeth Davies Rostow Stiles 
Professor Emerita in American Studies, Professor and former Dean of the LBJ School of Public Affairs
2003
Peter O'Donnell 
President, O'Donnell Foundation
2001
Wiliam S. Livingston 
Senior Vice President, the University of Texas at Austin
1998
Peter Flawn 
President Emeritus, the University of Texas at Austin